Shop Insurance Canada: Current Property Investment Options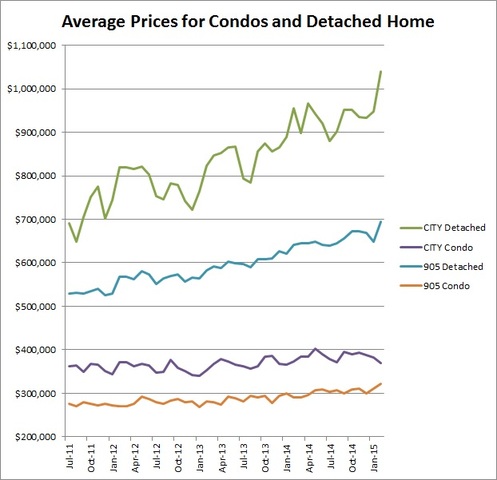 September 9, 2016 - Recently Shop Insurance Canada wrote about surging house prices in Toronto, and how the market was not suitable for real estate investors considering they cannot guarantee returns should the market slump. However, while investing long term is a risk, it seems
short term real estate investment
could be a risk worth taking.
House prices in Toronto continue to soar, with consumers certain to be hit hard as the prices increasingly pushes out more and more people from the property market. A
new report
released by the Toronto Real Estate Board (TREB) paints the real estate market as red hot, but also shows a worrying trend where prices are rising uncontrollably.
Average house prices in the Greater Toronto Area have jumped almost 17 per cent over the last year, comparing data from June 2016 to June 2015. During June last year, the average house price cost $639,309, but through this year the price increased 16.8 per cent to $746,546. The data takes into account all types of property, including detaches, condos, and attached houses.
The report describes the environment as an "uphill battle" for buyers, but soaring house prices also spell bad news for current homeowners.
Historically, there has been a correlation between rising real estate prices and an increased cost for home insurance premiums. Many Ontarian homeowners, particularly those in the Toronto region may find their premiums increase year on year has house prices continue to rise uncontrollably.
It is an uncontrollable rise too, with some experts (including those in the government) unsure how to slow down the market to reasonable growth. If insurance premiums do indeed rise, there could be a consumer backlash as many homeowners would be expecting their insurance costs to decrease year on year.
TREB president Larry Cerqua says demand is pushing prices, despite the fact many consumers cannot afford to get on the property ladder.
"Demand is at a record level," he wrote in the report. "Would-be home buyers continue to face an uphill battle against a constrained supply of listings."
However, industry expert Shop Insurance Canada (ShopInsuranceCanada.ca) says that short term real estate investors can make the most of continuously rising house prices.
"Arguments for investing in a long term property are unconvincing. The high gains are unsustainable and an investor could be left with a property valued lower than what they originally paid. However, investors looking to the short term could be intrigued by buying a property now and selling it in a year's time for a certain percentage above the purchase price.
This is not without risk of course. The property boom is going strong, but it could ease and it also limits the amount of people buying homes could make finding a buyer hard."
About Shop Insurance Canada
Shop Insurance Canada is a Toronto based company that specializes in delivering the best auto insurance products to customers around Ontario and Canada. The
online insurance quoting tool
uses an engine that is easy to use and accurate enough to deliver the best auto insurance quotes from over 25 of Canada's leading providers. Shop Insurance Canada also offers expert advice on the auto insurance industry, as well as guides and news to help customers find the best deal possible.
Shop Insurance Canada
1003-60 Bathrust St.
Toronto, Ontario
M5V 2P4
Canada
416-913-0151
Email Shop Insurance Canada