Announcing HUSTLE: The Power to Charge Your Life with Money, Meaning, and Momentum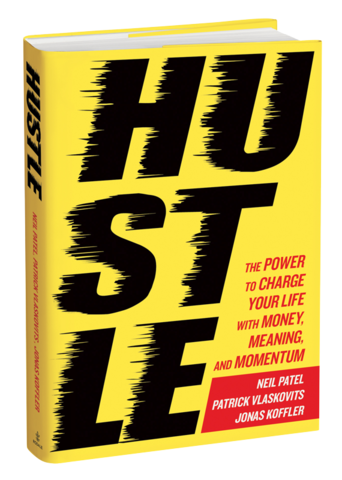 New Book by Neil Patel named Top Entrepreneur Under the Age of 30 by President Obama, Patrick Vlaskovits the New York Times bestselling author of The Lean Entrepreneur, and Jonas Koffler advisor to recognized thought leaders, TED speakers, and creative artists.
In a much anticipated book that bucks the system with a new path to success and fulfillment,
HUSTLE: The Power to Charge Your Life with Money, Meaning, and Momentum
, provides today's generation with the battle cry they've been calling for so they can take charge of their destinies, beat the odds, and create opportunity to pursue dreams on their own terms.
"In sports, hustle is the difference between a good player and a star. According to the authors of HUSTLE, the same can be true in business. Tilt the game of life in your favor with this counter-intuitive new book." -
Daniel H. Pink, bestselling author of To Sell is Human and Drive
Our guides are the author team of
Neil Patel, Patrick Vlaskovits, and Jonas Koffler
, three unconventional entrepreneurs whose experiences include immigrant families, rags to riches rises, crushing health and financial setbacks, as well as remarkable success, including founding multimillion dollar ventures and developing innovative, award-winning projects. What they share in common is a lifelong dedication to building unapologetically fulfilling and successful lives around the three key pillars of this book:
Meaning
(the why of our work),
Money
(the earnings we make to build our confidence), and
Momentum
(relentless energy and a 'get things done' attitude). When all three are in better balance, they form the foundation for a winning strategy that anyone can apply for big breakthroughs, maximum returns, and sustained personal growth.
The authors expose the counterintuitive limitations of loyalty, leaning in, and grit. Instead, they go against the grain of established wisdom and teach you to:
Betray Yourself to Stay True to Yourself: Develop your full creative potential.
Use the 10-Minute Rule: Activate immediate focus and productivity and expand your talents while avoiding the narrow, paralyzing trap of the 10,000 hours rule.
Create a Personal Opportunity Portfolio (POP): Build assets that replace your resume, increase your credibility, attract people, and put you in the role of opportunity regulator.
Master the Science of Luck: Capitalize on the four types of luck and never strike out.
Choose Your Own Adventure: Pursue four powerful career paths to own your future.
But whatever you do, be sure to avoid at all costs what the authors call "the Mediocrity of Meh." Not sure how to do so? The authors share their
Three Unseen Laws of Hustle:
Hustle in Your Heart: Do something that moves you. This imbues you with energy, enthusiasm, and excitement. Don't worry about so-called passion, just set the wheels of possibility in motion.
Hustle in Your Head: Keep your head up and your eyes open. Embrace risk and look for hidden opportunity and ways to manufacture luck. A little luck goes a long way.
Hustle in Your Habits: Seal the deal and make it real. Turn an opportunity into a value exchange. Concrete transactions generate growth, upside optionality, and proof.
The American Dream isn't gone. But the way to achieve it has drastically changed.
If we give ourselves permission to dream and do-or in other words hustle-we will reap the rewards we deserve.
HUSTLE
is the much-needed blueprint for empowering a restless generation who crave more freedom, mobility, and happiness. More than a business mantra;
HUSTLE
is a transformative guide to discovering your talents, finding what you love to do-and, most importantly, creating more success and meaningful possibilities for an enriching life.
Learn More About HUSTLE
To learn more about HUSTLE: The Power to Charge Your Life with Money, Meaning, and Momentum visit
Amazon
,
Barnes & Noble
, and other fine retailers.
ABOUT THE AUTHORS OF HUSTLE
Neil Patel
is the London-born, California-raised co-founder of Crazy Egg and Hello Bar. He helps companies like NBC, GM, HP, and Viacom and other major brands grow their revenue. The Wall Street Journal calls him a top influencer on the web, Forbes says he is one of the top 10 online marketers, and Entrepreneur Magazine says he created one of the 100 most brilliant companies in the world. He was also named a Top Entrepreneur Under the Age of 30 by President Obama. He speaks around the world and lives in Seattle, Washington.
Patrick Vlaskovits
, who arrived to California from Hungary at age 6, is an entrepreneur and the New York Times bestselling author of The Lean Entrepreneur. His writing has been featured in the Harvard Business Review and the Wall Street Journal, and he speaks at technology conferences nationally and internationally, including SXSW, GROW Conference, The Turing Festival, and The Lean Startup Conference. He is founder and CEO of Superpowered Inc. He and his wife and three children live in Austin, Texas.
Jonas Koffler
, raised across the US by academics and artists, is a creative media consultant, producer, writer, and entrepreneur. He advises internationally recognized thought leaders, TED speakers, and creative artists, helps organizations innovate, develops strategy and intellectual property for startups, billion-dollar companies, and nonprofit organizations alike, invests in new ventures, and has contributed to multiple bestselling books, music, TV and film projects at his boutique storytelling consultancy, KofflerPictures.com. A stroke survivor-turned-yoga practitioner, he cofounded Radical Wellness Inc. and has developed one of the leading online communities for self-care. He and his wife divide their time between Austin, Texas, New York, and Vancouver, Canada, where he is currently developing a narrative feature film project.
Praise for HUSTLE
"The authors of Hustle traded in the humdrum corporate life for one of opportunity and adventure. If you're looking for the same kind of exit ramp, read this book, soak up its contagious energy, and get ready to do some hustling."
-Dan Heath, co-author of Made to Stick, Switch, and Decisive
"A must-read for anyone willing to take some risk and create success on your own terms."
-Rana Florida, bestselling author of Upgrade and CEO of the Creative Class Group
"Hustle will help you explore your unique talents and quirks, and discover more fulfillment in the process."
-Raj Raghunathan, Professor at the McCombs School of Business, The University of Texas at Austin and Author of If You're So Smart, Why Aren't You Happy
"An important book that will show you how to build the bridge between your potential and the opportunities that are waiting for you―if you choose to go after them."
-Bernadette Jiwa, bestselling author of Meaningful and Difference
"Love is the killer app, Hustle is its operating system. Read this book and drive exponential success, starting today!"
-Tim Sanders, bestselling author of Love is the Killer App and Dealstorming
"Why follow the herd and force yourself to fit into "their system" when you don't have to? Instead, use this book to hustle your own way to success. On YOUR terms."
-Claire Diaz-Ortiz, author and entrepreneur
"Sometimes we all fall into a Cycle of Suck, where our talents remain obscured behind a wall of misfortune. And that is precisely when you need to get off your ass and hustle, to unearth hidden opportunities and change your life. This book will tell you how to recharge your life with more money, meaning, and, perhaps most important of all, momentum. Read it. You'll be glad you did."
-Adam L. Penenberg, Journalism Professor at New York University and author of Viral Loop
"All you have to do is hustle…you hear it all the time. It's a trendy word where the action related to it is easier said than done. Here's a reference guide to make hustling productive and actionable."
-Brian Solis, digital analyst, anthropologist, and bestselling author of X: The Experience When Business Meets Design
"A stimulating read for unconventional thinkers and creative doers who aspire to get more out of life."
-Richard Florida, bestselling author of Rise of the Creative Class, and co-founder and editor-at-large at The Atlantic, City Lab
HUSTLE: The Power to Charge Your Life with Money, Meaning, and Momentum
by Neil Patel, Jonas Koffler, and Patrick Vlaskovits Rodale; September 13, 2016; 272 pages; $26.99 Hardcover; ISBN 13: 978-1623367169
FOR MORE INFORMATION
Mark Fortier: 212-675-6460;
mark@fortierpr.com
Pamela Peterson: 917-439-0500;
pamela@fortierpr.com
Emily Eagan: 212-808-1621;
emily.eagan@rodale.com