MasterPieces Executes Perfect Game Plan to Launch Spot It! Sports Editions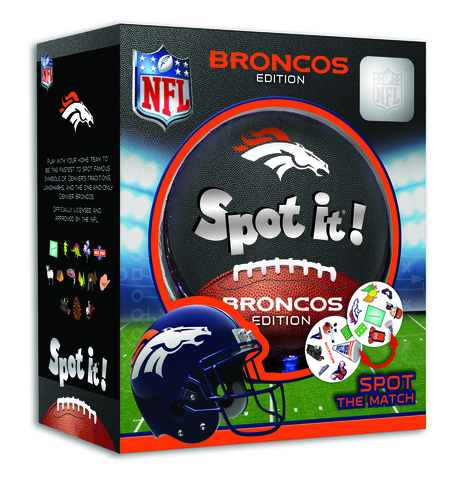 September 15, 2016 - MasterPieces Puzzle Company today announced that it has entered an agreement to combine its new license for the game, Spot it! with certain professional and collegiate sports organizations.
MasterPieces aligned with Asmodee for the Spot It! license and then "teamed" up with The National Football League, National Hockey League and NCAA to "fan"-chise the popular card game. In addition, MasterPieces is currently distributing the Spot It! Major League Baseball version for Asmodee.
David Rolls, President of MasterPieces, said, "The addition of a great game like Spot it! in sports versions gives us an elite team of products that all fans are going to love."
Each version of Spot It! includes the teams in each professional sports league, and most of the major collegiate sports athletic programs. Graphics in the new Spot It! Games will feature team logos as well as sport-specific related graphics, including equipment, some team mascots and other familiar icons.
Licensing Manager Simone Elliott at Asmodee North America explained, "We are very excited to work with MasterPieces to expand our line of Spot It! games in the world of sports. Their expertise is a notable asset in further developing the connection between tabletop games and sports fandom."
Packaged in special collectible sports tins, the new Spot It! sports editions (MSRP $14.99 each, for 2-8 players, ages 6 and up) maintain the same game mechanics and play strategy that has made Spot It! one of the world's most popular games in recent history.
Every Spot It! game contains 55 circular cards. Each of these cards has eight different symbols on them. Each of the cards has exactly one of its symbols in common with each other card in the game. There are many different mini-games that can be played with the game, but the heart of Spot It! is trying to find the one common symbol shared between two cards before your opponent does.
About MasterPieces Puzzle Company:
MasterPieces Puzzle Company was founded by David Rolls, former 8-year professional baseball player for the Kansas City Royals and Texas Rangers organizations, in 1995 with a passion to serve diverse retail markets and partner with evergreen brands and top puzzle artists. Twenty years later, MasterPieces has established itself as the market leader for combining the best quality products with the best value. Headquartered in Tucson, Arizona, MasterPieces reputation for producing innovative and high-quality products has propelled its global growth and the company's commitment to ensuring great value and superior customer support has earned its dedicated, worldwide customer loyalty. MasterPieces creates some of the world most elegant puzzles and innovative packaging, as well as toys and gifts, while also partnering with brands such as John Deere, John Wayne, Tetris, Animal Planet, Hershey's, and sports licensing with MLB, NFL, NCAA, NHL organizations. For more information about MasterPieces, visit the company website at
MasterPiecesInc
and for the most immediate information and interaction with the company, please like and follow MasterPieces on
Facebook
,
Twitter
,
Pinterest
, and
YouTube
.
Email MasterPieces Puzzle Co.