Edamam To Power Nutrition Betty Crocker, Pillsbury, Tablespoon and QueRicaVida Websites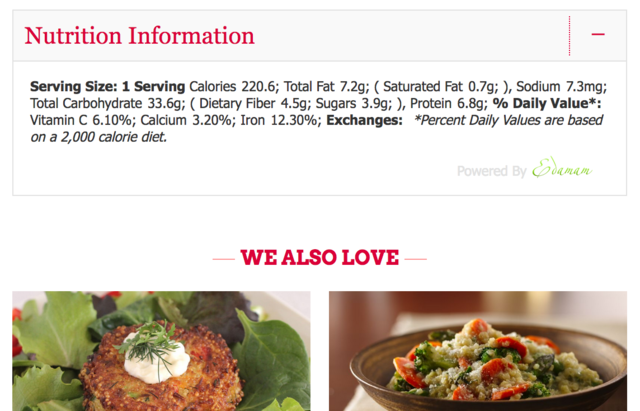 September 15, 2016 - Edamam, a data service company in the cross section of food and technology, has started providing its real-time nutrition analysis solution to four of the most popular cooking web-sites in the US. The company's unique technology will provide detailed nutrition data and diet tagging for recipes on Betty Crocker, Pillsbury, Tablespoon and QueRicaVida. Data is displayed next to each recipe and displays key nutrition facts.
To deliver the service, Edamam has developed for the four web-sites a custom implementation of its leading
Recipe Analysis API
. The API analyzes the nutrition of any recipe in real time with very high accuracy, yielding information for the content of 30+ nutrients and the applicability of the recipe to the 35+ most widespread diets.
"We are proud to be providing these icons of American family cooking with nutrition information. We firmly believe that nutrition data is a key ingredient to changing behavior and eating right and it should be easily accessible to cooks everywhere," shared Victor Penev, Edamam's CEO and Founder.
Edamam has done custom implementations of its API for other leading recipes sites, including Epicurious and The New York Times. The company's goal is to become the nutrition engine of the web, powering value-added nutrition data for any business in the food, health and wellness sectors.
"Apart from the large customers for which we do custom implementations, we also power nutrition for a number of smaller companies, including individual restaurants, caterers and a number of mobile apps." added Victor Penev.
Edamam's unique natural language processing technology and proprietary structured knowledge base is enabling the company to provide its nutrition analysis data service at a very affordable price point for any business, be it a single location restaurant or a large food media company.
About Edamam
Edamam
organizes the world's food knowledge and provides nutrition data services and value-added solutions to health, wellness and food businesses. Using a proprietary semantic technology platform, it delivers real-time nutrition analysis and diet recommendations via APIs. Edamam's technology helps customers answer for their clients the perennial question: "What should I eat?"