Shouldice Designer Stone Reveals Secrets of Curb Appeal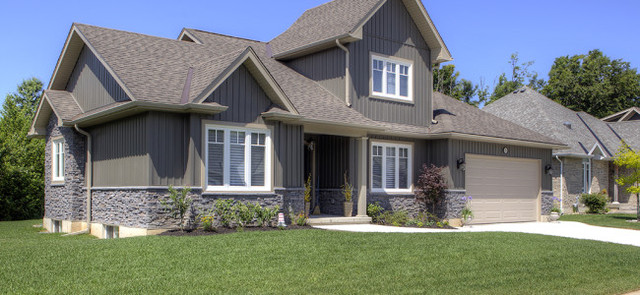 Curb appeal is often an overlooked part of home development. However, Fusion Stone developer Shouldice Designer Stone points out that curb appeal is an important investment in a property. In its latest blog post, the Ontario-based company discusses the details of curb appeal and how it can influence the value and sale potential of a home.
Shouldice Designer Stone is the developer of the popular Fusion Stone cladding solution. The veneer shares all of the advantages of full stone masonry. It is durable, looks fantastic finished, and enhances the value of a home. However, veneer also removes many of the disadvantages of stone masonry, such as the need of an expert finisher, adding more versatility, and costing much less.
In its
latest blog post
, Shouldice explains why curb appeal is important. The company points out that the first impression a home makes is from the curb. Whether trying to sell a house or searching for a strong aesthetic finish, curb appeal becomes an important factor. Both hard and soft landscaping features can boost curb appeal, while a strong finish to the property can increase value.
While curb appeal is important, Shouldice Designer Stone says that deciding how much to invest in achieving curb appeal is a question the company is often asked. The answer depends on a number of factors:
"This depends on how long you plan to stay in your home. If you want to sell soon then a smaller investment, roughly one or two percent of your home's total cost is a solid investment," the company says.
"However, if you are planning to sell in a few years you may want to consider investing ten to twenty percent of your home's value into improving your landscaping and curb appeal. The reasoning here is twofold: A larger investment will lead to a larger payoff and you have more time to enjoy the beautiful features you are installing."
After deciding how much to spend, homeowners will need to assess what parts of the home should take priority when making improvements. Many make the mistake of thinking a stunning garden is key to this process, but that is not always true. As Shouldice points out, while prospective buyers will like a perfect garden, they may also be put off by potential maintenance times.
"Ideally you want your home to appear both beautiful and low maintenance. For quick sells consider mature plants that require less care. Hardscaping features like stone pathways, walkways and retaining walls are a great way to increase your home's landscaping value. Porches, walls and other structures are critical elements to your front or backyard design."
The company's own Fusion Stone is an ideal solution for boosting curb appeal. It is available in a range of colors and is cut to thinner dimensions than other veneers. This allows owners to save on cost, weight, time, and space. Fusion Stone is very versatile and is ideal for boosting the appeal of a home. It is an affordable and durable way to boost curb appeal.
Numerous studies and valuation statistics show that landscaping and other aesthetic changes can boost the value of a property. However, finding an exact percentage of increase is difficult because property valuation takes in so many other factors. It is accepted that a five to twenty percent increase is normal, and many consider seven percent to be the average. In some cases, with careful focus on curb appeal, some homeowners have reported a one thousand percent return on investment.
About Shouldice Designer Stone
Ontario-based Shouldice Designer Stone has nearly 70 years of experience in delivering leading stone and veneer products in Canada. The company has built a reputation for innovation, while also acquiring a rapport with its customers that is built on high quality products and leading customer care. The 100% Canadian family owned business is now in its third generation of providing stone products in the country.