Shouldice Designer Stone Highlights Benefits of Fusion Stone as Fireplace Solution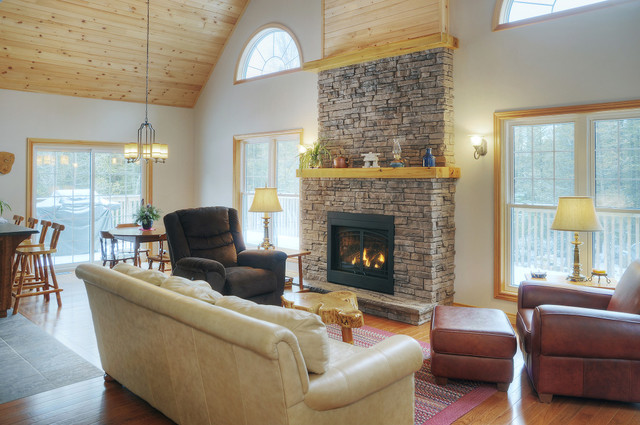 September 28, 2016 - Shouldice Designer Stone, the company behind the innovative and popular Fusion Stone veneer, recently showcased the product as a solution for fireplace design. In its August feature project, Fusion Stone was used to create a dramatic and beautiful fireplace that served as a focal point for a room. In its latest feature piece, the company discusses exactly why
Fusion Stone is ideal for a fireplace
.
For much of history, fireplaces have been the centerpiece of a living space, which has carried over into modern times. Even homes without a physical fire will often have some kind of mantel or feature system to replace the fireplace. In Canada, fireplaces are still popular, and whether it is gas or wood burning, using a stone veneer to make the fireplace stand out can transform a living space.
Natural stone veneer like Fusion Stone is the ideal material to achieve that appealing fireplace that will become a focal point of a room. Shouldice Designer Stone shows exactly whyFusion Stone is the perfect choice in its latest
blog post
.
Lightweight
With the Fusion Stone solution, customers get a lightweight and easy to use alternative to traditional stone products, which are often heavy and cumbersome. Shouldice points out that its product is locally sourced in the Ontario region and explains why the light material makes for an ideal fireplace finish:
"Natural stones are very heavy on a home's foundation. When you factor in the weight of the hearth, mantel and the surrounding stone you may find you need to reinforce your floor in order to work with natural stone, especially if your fireplace is on the second level of your home. Fusion Stone is a light-weight stone veneer product that looks and feels like natural stone but because it is thinner it is lighter and easier on your home's foundation."
Affordable and Easy to Install
Because it is easier to source, smaller, and easier to ship, Fusion Stone is available at a fraction of the cost of a tradition stone product. However, it retains all the properties such as strength and durability, while is also made of natural stone.
Fusion Stone comes with a patented clip system that makes it very easy to install on any surface. Shouldice Designer Stone says this is a true DIY material and is fast and easy to install, even for relative novices.
Safe for Fireplaces
Stone was almost exclusively the material of choice for fireplace surrounds throughout history. It is a natural barrier against fire, absorbs heat well, and protects surrounding materials. As a natural stone solution, Fusion Stone is non-combustible, non-flammable and meets building standards and codes, which is why it is approved by the CCMC (Canadian Construction Materials Centre).
"Whether you're changing the look of an existing indoor wood or gas fireplace or building an outdoor fireplace or fire pit you'll find that Fusion Stone has a variety of stone types and colours to choose from. Thinking of giving your fireplace a facelift? Get started today and visit a Fusion Stone dealer near you."
About Shouldice Designer Stone
Ontario-based Shouldice Designer Stone has nearly 70 years of experience in delivering leading stone and veneer products in Canada. The company has built a reputation for innovation, while also acquiring a rapport with its customers that is built on high quality products and leading customer care. The 100% Canadian family owned business is now in its third generation of providing stone products in the country.
About Fusion Stone
Fusion Stone
is an easy and budget-friendly way to beautifully upgrade your home, inside and out. A patented innovation, Fusion Stone is a thin stone veneer that is easily installed with the included stainless steel clips & screws. You just screw it to the wall and it's "Hooked for Life".
Available in three distinct types, all backed by a Lifetime Guarantee, Fusion Stone can be installed on both new and existing wall assemblies in any weather, by anyone. With just a few basic tools your average home handyman is transformed into a Fusion Stone expert.