PolicyZip Awards Scholarships to Two Students from Arizona State University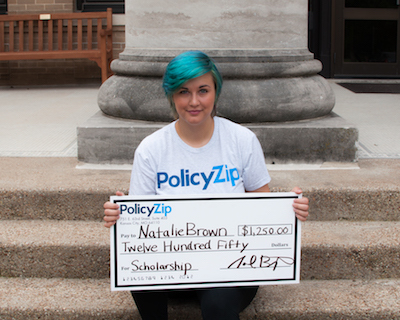 September 28, 2016 -
PolicyZip
, a nationwide online insurance agency, and sister-company Eligibility.com joined forces to award a total of $2,500 in scholarship aid earlier this month to students in need. Both winning students currently attend Arizona State University.
The companies received nearly 100 applications for their very first scholarship program that will run twice per year, awarding money to students each semester.
Students were asked to either respond to questions about how their education helps to insure their future goals or how a personal disability has positively affected the pursuit of these goals.
While responses varied greatly, there were many standout applicants. After review by a panel of judges, they were able to narrow it down to two winners, both from the same school. The turnout from Arizona State University was outstanding in terms of both quantity and quality, so it's no surprise that both of the winners are Sun Devils.
The Winners from Arizona State
Natalie Brown is from Fort Worth, Texas, taking online classes at Arizona State University. She has chosen to study Business with an emphasis on Sustainability, hoping to impact the world in a positive way.
Jonathan Bisceglia is an incoming Freshman at ASU, studying Justice. Originally from Washington, he plans to use the scholarship money to buy books and ease his transition to warmer climate in Arizona.
"It is quite an accomplishment that both of the recipients are from Arizona State University, and it's no surprise the chosen winners are looking to make a positive impact on the world by setting high goals for themselves," said company President, Brandon Laughridge.
About the Scholarship Program
PolicyZip's "
Insure Your Future
" scholarship is awarded twice per year. The program is now accepting applications for scholarships to be awarded in January. Company representatives are anticipating an influx of applications from students around the country.
About PolicyZip
PolicyZip is an online provider of life insurance and Medicare supplement plans, licensed nationwide. Based in Kansas City, MO, the company combines cutting-edge technology with exceptional customer service to help customers navigate purchasing insurance. For additional information, see
www.policyzip.com
.