GreenRope Announces the Launch of the GreenRope Marketing Suite for Everything Marketing and Beyond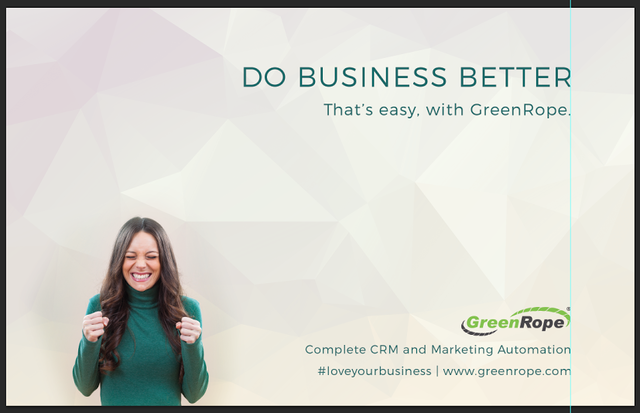 San Diego – September 29, 2016 –
GreenRope
, a leading CRM platform, just launched their full suite of advanced marketing automation tools. No technology stack is complete without integrated marketing automation, now available to anyone searching for a complete sales and marketing platform.
"No competitive business is complete without both sales and marketing software to help them streamline and automate some of their business processes," explains Marketing Manager, Alessandra Ceresa. "As a marketer, GreenRope's new marketing suite has all of the tools any marketing technologist needs to create and execute effective inbound and outbound marketing campaigns. Gone are the days of trying to integrate multiple third-party applications."
The modern marketer needs a plethora of tools to organize, segment, manage, and track all of their marketing efforts. And with marketing automation becoming a commonality amongst small businesses, they can now enjoy a full set of tools the way they are intended to work together. This makes it easy for even the greenest marketer to execute winning marketing campaigns.
GreenRope's Marketing Suite includes:
Advanced Marketing Automation: Any of the automation you want, completely customizable to fit your business needs.
Email Marketing: Create and send beautiful and professional emails with GreenRope's drag and drop EasyBuilder or the HTML builder. GreenRope's deliverability is top-rated, so your emails always land in the Inbox. GreenRope's email marketing feature comes with full tracking capabilities so you can always measure your efforts.
Websites & Website Tracking: Build websites and landing pages with integrated tracking, so all of your pages' activity is easily accessible and can trigger automated workflows and other actions.
Workflows: From simple sales follow ups to advanced workflows driving leads down the funnel, GreenRope's workflow manager bridges the gap between sales and marketing to help create better customer experiences.
Signup Forms & Landing Pages: Easily build and publish landing pages with signup forms for acquiring new leads. Trigger auto-responders, workflows, and more when a contact visits a landing page and gives you their information.
Drip Campaigns: Effectively nurture leads with drip campaigns. Create as many as you need and establish rules for accurate and effective segmentation.
Surveys: Surveys let you gather valuable feedback from your clients. Trigger workflows and other automated actions based on survey responses.
Social Media Management: Social media continues to grow as an effective and lucrative marketing tactic. Manage, track, and automate your social activity. GreenRope's social automation feature triggers workflows when a contact engages with you on any of your social networks.
Print On-Demand: A complete omni-channel strategy is never complete without print marketing. GreenRope integrates with Quantum, so you can automatically send out print pieces as part of your marketing strategy.
With so many moving parts, marketers need all of their tools in one place. With GreenRope's marketing suite, there is no need for data transfer, expensive third party integrations, or inaccurate data.
To learn more about GreenRope's Marketing Suite, please visit,
www.GreenRope.com