Manhattan Home Design Reinvents the Shock Mounts of the Eames Lounge Chair Replica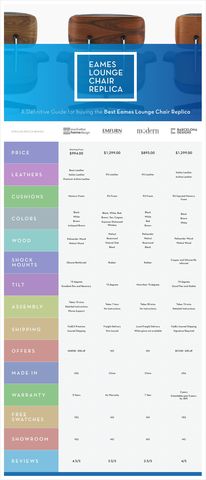 October 1, 2016 - The market-leader of the
Best Eames Lounge Chair Replica
, Manhattan Home Design is hailed as one of the top Modern e-commerce furniture sellers in the US. Their Vitra replica of the popular mid-century modern piece has captured the hearts of many because of it state-of-the-art shipping time, quality craftsmanship, premium materials and long-lasting shockmounts. Today, you can see the iconic design all over television shows, famous films, businesses and a number of residences across the nation. This celebrated online retailer has built an outstanding record in the creation of
mid-century furniture
and is still the number one pick of many interior designers, builders and decorators around the globe.
The Eames Lounge Chair which is originally designed by Charles and Ray Eames is one of the most sought-after designs that feature first-class quality and maximum comfort. This American husband and wife team revolutionized the phase of furniture design and architecture during the 20th century. Through their craft, they popularized the use of new materials and techniques for crafting furniture. They utilized the extensive use of molded plywood, fiberglass, plastic resin and wire mesh. The fruits of their hard work and dedication made way to the ultimate inspiration of today's Eames lounge chair reproduction, also called as Eames Chair replica.
Fancy your very own upholstered Eames Lounge Chair with your personal choice of top-grain Eco-leather, exceptional Italian leather and 100% Aniline leather imported all the way from Italy. And more, you get to choose your preferred veneer finish and color. This renowned furniture brand does not cut corners so they make sure that you get the feel of luxury from their premium quality
Eames Chair Replica
.
As we all know, shockmounts are made to let the backrest and headrest flex when in use. This is a vital part of the chair since it maintains the flex feature of the chair. Problems with this part is known to occur in some models. Over time, shockmounts have been known to tear-free causing catastrophic collapse and damage. This is one of the prime reasons why Manhattan home Design reinvented Eames Lounge Chair Replica's shockmounts. Now, the models come with a Copper Reinforced Silicone that won't break easily, even with a lot of pressure applied. With this material, your movements can be flexible but still firm just like that of the original. Surprisingly, its form comes back to the original arrangement even after 10 years of continuous use. In this instance, the chair will not break. The difference lies in the feel you get when you use one that has a rubber shockmount from one that uses a silicone shockmount. Clients go for Manhattan Home Design's version because it lessens the likelihood of accidents and injuries. After all, you're investing to maximize comfort, safety and security in every use.
Apart from the Eames chair replica, they also have other hot items that you can check out. Their top selling items include the
Arco Lamp Replica
,
Barcelona Chair Replica
,
Womb Chair Replica
,
Noguchi Table Replica
,
Eames La Chaise
and
more
. The variety of their stylish, classic and unique mid-century furniture are priced within the middle range to make sure they are affordable for everyone.
Being the leader in selling Eames replicas, they also offer accessories and resale of the top modern furniture brands namely Zuo and Ashley. Having proven that they have what it takes to attend to all your indoor and outdoor furniture needs, they are still working on innovating their existing designs as well as creating newer and better versions of the most iconic brands and furniture from previous years. When it comes to home ideas and design, make sure to visit their website. Or, better yet, go ahead and spare some of your precious time to visit their showroom located in
325 W 38th St#1501, New York, New York, 10018
.
With an impressive track record in the furniture business, you are guaranteed the promise of experiencing the finest modern classic furniture at affordable prices. Prepare to be impressed with the superior quality of the materials they use in their beautifully designed pieces. From the finest Italian leather to the state-of-the-art wood products. Expect to see more amazing designs inspired from the most renowned designers worldwide. It's never too late to combine comfort and style. Thanks to Manhattan Home Design, everyone can enjoy the classic, luxurious and unique feel of mid-century furniture without spending a fortune With the improved shockmounts of the premium quality
Eames lounge replica
, customers will surely patronize Manhattan Home Design's model even more. Who can resist an iconic item with the same specifications as the original and a 5-year warranty to make the deal even better? Truly, there's no stopping this excellent e-commerce furniture brand. They won't stop at a level that is good enough, they aim to be the best among the rest.
Source:
https://besteamesloungereplica.com/2016/09/30/best-eames-lounge-chair-replica/
Email Manhattan Home Design