Wendie Malick Leads LA Play Reading of New Circumcision Comedy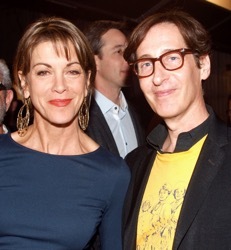 October 9, 2016 - LOS ANGELES, CA – The new Stan Zimmerman & Christian McLaughlin play, Knife to the Heart, a comedy about circumcision, will hold a private reading on October 16, 2016, at Los Angeles's Lex Theatre. The cast for the reading will include Wendie Malick (Hot in Cleveland), Todd Sherry (Parks & Recreation), Katie Walder (How I Met Your Mother), and Josh Zuckerman (Desperate Housewives). Michael Matthews will direct.
This developmental reading for investors and invited industry members is in preparation for a slated Chicago run in Spring 2017, helmed by Chicago-based lead producers Steve Abrams and Tony D'Angelo of TADA Theatricals, LLC, and Stefani Nicole Von Huben. Production, cast, creative team, dates, and venue to be announced shortly. For more information, visit
www.knifetotheheart.com
.
About the Play:
When Marshall and Julie Ann Katz discover that they have twin boys on the way, no one is kvelling more than Marshall's mother Rhonda – queen of Texas organic foods, and the 21st century Jewish mother we've been waiting for. But faster than you can say "to cut or not to cut?", the whole family is pulled into an uproarious tug-of-war, with a little help from YouTube, a meddling gay schoolteacher, and more than a few centuries of tradition. By the time it's over, there's no telling who (or what) will be left intact.
Bios:
STAN ZIMMERMAN (co-playwright): Director/Writer/EP/Creator: "Secs & Execs," "Skirtchasers" – Webseries (telloFilms.com) Consultant: "Katya" aka Russian "Roseanne" (Sony International/CTC). Writer/EP/Creator: "Rita Rocks" (Lifetime). Writer/Producer: "Gilmore Girls" (WB), "Roseanne" (ABC) WGA nomination - "Kiss Episode". Writer: "The Brady Bunch Movie", "A Very Brady Sequel", "Annie" (ABC-MOW), "The Golden Girls" (NBC) WGA Nomination, "Fame" (Syndicated), "Brothers" (Showtime). Director: Warm Cheese – Hollywood Fringe 2016 (Studio C Artists), Suicide Notes: In Their Own Words - Hollywood Fringe 2015, also Writer/Producer (Theatre Asylum), Daughter Of… - Hollywood Fringe 2014 (3 Clubs Lounge), Entertaining Mr. Sloane (Actors Company), BLINK & You Might Miss Me (Hollywood Fringe 2013, SF Fringe, XL Lounge- NYC, Best Director winner – Broadwayworld.com), Spike Heels (Actors Circle), A Tuna Christmas (Theatre Asylum), Gemini (Celebration Theatre), Music video "All I Want" - Whore's Mascara (LOGO). Writer/Director/Producer: Meet & Greet – Hollywood Fringe 2014 (Theatre Asylum): Best Comedy, Best Director, Best Ensemble – Robbie Award nominations 2014, Meet & Greet (Elephant Space): Best Director nominee – Broadwayworld.com, Best Director, New Comedy, Comedy Ensemble – Scenie Awards 2014, It's On!: the tv theme song musical (workshop- NYMF/Signature Theatre, Falcon Theatre), Dancer/Broadway: Nureyev & the Joffrey Ballet (Mark Hellinger Theatre). TV Host/Showrunner: "Situation: Comedy" (Bravo/Producer Sean Hayes). Teacher: Chapman University, Beverly Hills Playhouse, Studio Productions, Actors Company, American Comedy Institute (NYC), Grand Prairie Fine Arts Academy (TX). Education: Cranbrook Theatre School, Hampton Playhouse, BFA-Drama NYU/Circle-in-the-Square.
CHRISTIAN MCLAUGHLIN (co-playwright) Writer: Along with Valerie Ahern, Christian worked on the infamous "Married with Children". They've also written for "Desperate Housewives", "Hannah Montana", "Hot Properties", "Clueless" and "Rita Rocks". The team had stints on the daytime soaps – "The Young and the Restless" and "The Bold and the Beautiful". They created and executive produced MTV's Emmy nominated steamy soap opera "Spyder Games". Christian produced and directed a live stage production of The Phacts of Life in Los Angeles. He gained notoriety in his early twenties with the publication of his novels, Glamourpuss and Sex Toys of the Gods. Christian and Valerie are currently working on the Disney Channel hit series, "Jessie". With Stan, he wrote It's On! and the 2012 and 2013 Divas Simply Singing! benefits.
MICHAEL MATTHEWS (Director) Los Angeles: Billy and Ray (Laguna Playhouse), Charm (LA Premiere), Dream Boy (LA Premiere), Bootycandy (LA Premiere, LADCC Nomination, Production), Failure; a Love Story (Ovation Award Best Director) (LA Premiere),Sons of the Prophet (LA Premiere), Psyche; a Modern Rock Opera (World Premiere), Rabbit Hole (La Mirada), Funny Girl (3D Theatricals, Ovation Nomination Best Director), Peter Pan; The Boy Who Hated Mothers (LA Weekly Nominations Best Director and Best Production, Play; LA Premiere), Very Still and Hard To See (LA Weekly Nominations Best Director and Best Production, Play; World Premiere), The Color Purple, The Musical (Ovation and LA Weekly Awards Best Director and Best Production, Musical), What's Wrong With Angry?(Ovation Nominations Best Director and Best Production,Play), Take Me Out! (Ovation Nomination Best Director, NAACP Award Best Director) The Women of Brewster Place, the Musical (Ovation Nomination Best Director, NAACP Award Best Director, Ovation Award Best Production, Musical; West Coast Premiere), Stupid Kids (LA Premiere), Beautiful Thing (Ovation Nominations, Best Director and Best Production,Play), The Bacchae (Ovation Nominations, Best Director and Best Production,Play), Broadway: Butley (Assistant Director). Chicago: What's Wrong With Angry? (Jeff Nominations, Best Director and Best Production), In The Blood (Jeff Nominations, Best Director and Best Production), Porcelain (Jeff Nomination, Best Director), The Judas Kiss (Chicago Premiere), Being 11 (World Premiere), and…for colored girls who have considered suicide…. International: The Bacchae (Edinburgh Theatre Festival, 2010). Michael is the recipient of the 2015 LADCC Award for Career Achievement in Direction.
WENDIE MALICK (Rhonda) is best known for her roles in television comedies. She starred as Judith Tupper Stone in the HBO sitcom Dream On (1990–96), and as Nina Van Horn in the NBC sitcom Just Shoot Me! (1997–2003), for which she was nominated for two Primetime Emmys and a Golden Globe Award. From 2010 to 2015, Malick starred as Victoria Chase in the TV Land comedy series, Hot in Cleveland. She is also known for her recurring role as Ronee Lawrence on the final season of Frasier. Malick also played many character roles in films, include Scrooged (1988), The American President (1995), Racing Stripes (2005), and Confessions of a Shopaholic (2009), has made over 50 guest appearances on television shows, primarily on comedies, starred in a number of made for television movies, and works as a voice actress.
TODD SHERRY (Deacon) played Seymour in three separate productions of Little Shop of Horrors, including the US and Canadian tours. He has been seen as Joseph in Joseph and the Amazing Technicolor Dreamcoat, Lancelot in Camelot, Hero in A Funny Thing Happened on the Way to the Forum, and in many other roles in stock and regional theatres all over the country. In the LA and San Francisco productions of the play Doing Judy!, Todd created the lead role of Kenny Carlisle, which led to a successful career in television and film acting over the past 15 years. To date, Todd has recurred on seven television series including Parks & Recreation, Suburgatory, Joan of Arcadia, Rita Rocks, and The O.C. He has guest starred in dozens more including Supergirl, Life in Pieces, The Mindy Project, Good Girls Revolt, and Grace and Frankie.
KATIE WALDER (Julie Ann) is best known for her recurring roles on Gilmore Girls as Janet Billings, How I Met Your Mother as Shannon, and Mad Men as Sherry. She has appeared in over 40 television shows, including New Girl, Franklin & Bash, Fairly Legal, The Good Wife, Supernatural and Rules of Engagement. In 2007 she played Trevor Wright's girlfriend in the award-winning independent film Shelter. In 2014 she co-starred in the horror film Come Back to Me. Walder got her start in New York City, performing in stage roles with Broadway directors including Michael Greif, Keith Reddin and Daniel Aukin. She will soon be seen in the Paramount-owned comedy short Billy Glimmer opposite Ben Stiller.
JOSH ZUCKERMAN (Marshall) was recently seen in the CW summer series Significant Mother for Alloy Entertainment about a guy who discovers his best friend is sleeping with his mother. Up next is the dark comedy Mind Puppets with Vinnie Jones. Last year he co-starred in the independent drama Field of Lost Shoes based on a true story of the American Civil War about a group of teenage cadets who must confront the horrors of an adult world. Josh co-stars with Jason Isaacs. He is still widely recognized from his leading role in Summit's Sex Drive opposite James Marsden and as the nerdy boyfriend of AnnaLynne McCord in 90210 and as the notorious Wysteria Lane Strangler on Desperate Housewives.
STEVE ABRAMS (Executive Producer) has been a driving force in Chicago's diverse cultural landscape for almost the last three decades. Having had a celebrated career that took him from the exciting nightclub and restaurant scene of the 90s through senior and executive leadership positions at Steppenwolf Theatre Company and the Harris Theater for Music and Dance at Millennium Park, he currently serves as Interim Managing Director at Chicago Children's Theatre and was recently named as the first Guest Artistic Director at Navy Pier, leading its newly formed arts & discovery programming. He is the principal at The Abrams Group, LLC, an innovative arts management and production company and partner at TADA Theatricals, LLC, a commercial theatrical producing entity currently in pre-production for Knife to the Heart, a new comedy by veteran television writers Stan Zimmerman and Christian McLaughlin scheduled for a March 2017 pre-New York run in Chicago. Steve is the recipient of the Actors' Fund's 2016 Encore Award for extraordinary dedication and commitment to the performing arts by supporting those who bring spectacular performances to our stages and screens.
TONY D'ANGELO (Producer) was producer and managing director of the Candlelight Dinner Playhouse and Forum Theatre for over 35 years. At these theaters D'Angelo produced over 400 shows, including five world premieres, five mid-west premieres and over 30 Chicago premieres. His productions have received over 18 Chicago Joseph Jefferson Awards. Tony has produced numerous Chicago hits including Lyle, an original musical by Charles Strouse and Little Shop of Horrors at the Royal-George Theatre. At the Mercury Theatre Over the Tavern ran a very successful 13 months followed by King o' the Moon. He also presented John Powers's new play Life's Not Fair, So What! In Chicago, he produced the hit musical revue The Water Coolers. In the fall of 2007, at the Apollo Theater he produced the acclaimed show The Sparrow, followed in the spring by the world premiere musical Knute Rockne All-American at Theatre at the Center, which was voted one of the best shows for 2008. In the of spring 2009 he produced The Quiet Man Tales at the Chicago Theater and Hi-Fidelity the musical at Piper's Alley. He was a producer of Trying off-Broadway in 2010. Recently he was the General Manager for Working a musical which played at the Broadway Theater in 2011 and recently presented the musical Signs of Life at Victory Gardens Theatre. In 2015 Unspeakable at the Broadway Playhouse.
STEFANI NICOLE VON HUBEN (Producer) is the founder of 4th Street Park Productions, a Southern-California based production company that has produced short and full-length films, television programming and live stage theatrical productions. Stefani has partnered with the Broadway San Diego Civic Theatre to bring theatrical experiences and opportunities to local San Diego elementary school students, including: Cinderella (2015); Beauty and the Beast (2015); Newsies (2016); Lion King (2016); and future shows include Matilda (2017) and Finding Neverland (2017). She has enjoyed collaborations with Disney-ABC Studios on K.C. Undercover (2016) and DreamWorks Animation on their box-office hit, Home (2015), their latest movie Trolls (2016), and their future film Larrikans (set for 2018). Ms. Von Huben's producing highlights include: debuting Unspeakable at the legendary Apollo Theater, New York (2013), winning the Indie Merit Award for her short film, Blue Butterflies (2014), premiering Unspeakable: a Dramatic Fantasia in Chicago at the Broadway Playhouse, Water Tower Place (2015), and developing Knife to the Heart, Lex Theatre, Los Angeles (2016).
###
Email TADA Theatricals, LLC