Pembroke Instruments Releases New SWIR InGaAs Cameras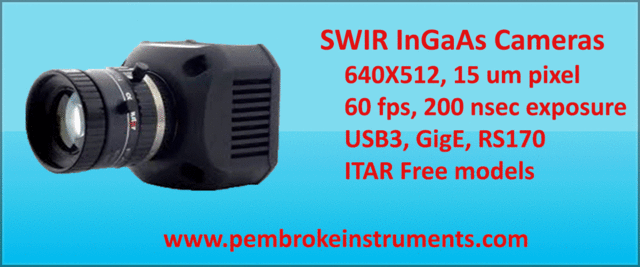 October 12, 2016 – Pembroke Instruments, LLC has announced the release of a new Short Wave Infrared (SWIR) imaging solution for industrial, medical device, surveillance, and research applications. The new SWIR imaging product line features the 640 series of SWIR InGaAs cameras that employ infrared sensors with an unprecedented levels of image quality and dynamic range.
"For the first time, SWIR imaging application developers will not have to make trade-offs and compromises on low light sensitivity when there is also parts of the scene that are quite bright", according to Dr. Leslie M. Tack, CTO and founder of Pembroke Instruments.
Applications that will benefit from the 640 series of SWIR cameras include:
SWIR imaging surveillance
Remote sensing
Cancer cell detection with microscopy
Hyperspectral imaging
Semiconductor failure detection
Art inspection
Laser tracking
In situ process monitoring
All 640 series model cameras employ the state-of-the art and patented ROIC InGaAs sensor with 640X512 format with 15 um pixel size, 14 bit ADC, and up to 140 db analog dynamic range. The customer can select USB2 which supports up to 60 frames per second or USB3 which supports up to 150 frames per second. Cameralink and analog output models are also available. The 640 series comes standard with global shutter and models with thermoelectric cooling are also available.
Most models are not ITAR restricted which means they can be used by most non-USA citizens with the USA and exported through the US Dept. of Commerce.
Pembroke Instruments offers many options to support more integrated applications including microscopes built to your exact specifications for magnification, field of view, working distance and illumination. The company also offers custom band-pass IR filters and a wide range of SWIR fixed focal length lenses.
About Pembroke Instruments: Pembroke Instruments, LLC is headquartered in San Francisco and is a leading source for high performance imaging and spectroscopy solutions since 2008. Customers include leading corporations in Silicon Valley, universities, biomedical device companies, and government labs and universities throughout the USA.
Email WiDy SWIR InGaAs Cameras