Introducing the Portable M217P Welding System Controller and End of Sale for M205 and M207 Power Supplies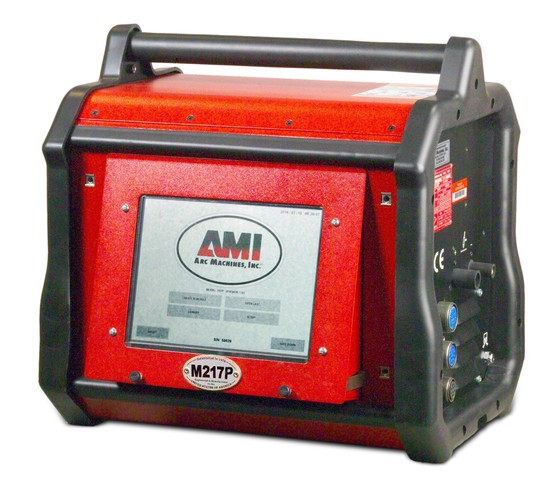 October 14, 2016 - Arc Machines, Inc., (AMI) is pleased to announce the newest addition to our fusion orbital welding systems the M217P which will begin shipping on October 1, 2016. The next evolution in Fusion Welding Power Supply.
This new workhorse is offered as a compact unit creating ease of portability for on-site applications while maintaining the functionality of the M217. The M217P replaces the M205.
35% smaller footprint and 27% lighter than the M217
One-hand carry handle
10" color touch-screen display
100% duty cycle, 5-150 amps
Manual or auto schedule generation, S³, Pulsed, Non-Pulsed, Step
Storage for 1000+ weld schedules and up to 99 levels per schedule plus Weld Data Recording
217P is designed to work with all AMI's orbital fusion weld heads capable of welding tube
AMI is known for designing the most reliable and innovative welding system controllers with the finest user interface available in the automated orbital welding industry.
Existing M205 customers will find that the enhanced 217P is 9% lighter; includes the advanced features of the M217, with a larger 10 inch touch screen and will retain the output connectors of the M205. Orders for the M217P weld system controller are being accepted now, with deliveries scheduled for mid-October 2016.
End of Sale for the M205 and M207 Power Supplies. As part of the evolution of our Fusion weld system controller product family, we will be ending the sale of the M205 and M207 power supplies.
M205 and M207 orders will be accepted until January 31, 2017.
Service, spare parts and consumables for the M205 and M207 power supplies, produced after 2016, will be supported through December 2026.
If you have any questions, please contact your AMI representative, or contact us
at 818-896-9556 in the United States, South America or Asia,
44 (0) 1327 879606 in the UK, and 49 (0)2245 9168-0 in Germany; or via email at
sales@arcmachines.com
.
*Arc Machines, Inc. is committed to providing excellent service and support to our customers during the entire lifetime of its products. However, units do reach an unavoidable stage and need to be discontinued due to; changes in manufacturing technologies; lack of availability of parts; the use of parts that no longer comply with regulatory guidelines. Certain Pre 2006 units may contain componentry that is obsolete and will be supported until stocks of obsolete components have been depleted. AMI encourages customers to take advantage of our new products, and in some cases, AMI may offer attractive upgrade options for pre 2006 production date owners of M207s. Please contact AMI or your local AMI Representative with questions regarding upgrades options.