Edamam Partners with fresh&co to Deliver Nutrition Data for Its Fresh and Healthy Meals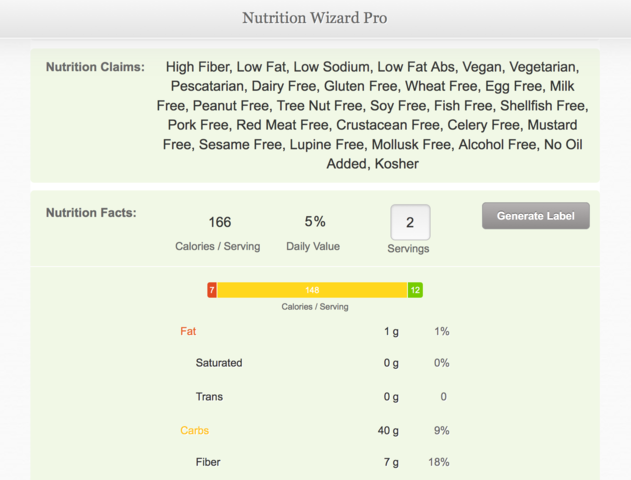 October 18, 2016 - Edamam, a provider of
value-added nutrition data services
has partnered with fresh&co, one of the most innovative and forward looking restaurant chains in New York, to supply nutrition data for all its menu items. The data will include not only the standard data on calories and macronutrients, but also details on micronutrient content and the appropriateness of each menu item to a range of diets, form vegan and gluten-free to paleo and low-sodium.
To deliver the service, Edamam has worked closely with fresh&co's team and chefs, delivering a custom service on top of its Nutrition Wizard Pro tool. The
Nutrition Wizard Pro
is a self service tool that any restaurant or recipe owner can use to analyze in real time with very high accuracy the nutrition of any recipe or ingredient list.
"As a New York based company, it was a pleasure to work with fresh&co, which is the go-to eatery for the busy professional looking for a healthy meal, quickly. We share with fresh&co the belief that fresh, carefully sourced, natural and organic food is the best recipe for healthy living. Nutrition data is just one more ingredient in this recipe that makes it even more appealing," commented Victor Penev, Edamam's CEO and Founder.
fresh&co is dedicated to delighting and surprising customers with creative uses of new and unexpected ingredients and novel recipes that are rarely seen in the quick service category. Its signature line of chopped salads is supplemented by a wide and seasonally changing range of soups, freshly-made sandwiches and full spectrum of breakfast options.
"Our customers want and more importantly, have the right to know what is in their food. We go to a great distance to communicate where and how we source our ingredients. By adding nutritional data to the mix, we're allowing customers to be aware of exactly what they're consuming," added Alex Perez, fresh&co's COO.
About fresh&co
With 14 locations throughout Manhattan, fresh&co prides itself on offering an array of vegetarian, vegan and gluten-free menu options that are packed with flavor. From signature chopped salads and homemade soups, to sandwiches, market fresh plates and cold-pressed juices, fresh&co is the go-to spot for hungry New Yorkers who want a great meal-fast. fresh&co sources the majority of its ingredients from local farms in the Hudson Valley and Long Island, creating a unique from-farm-to-desk connection. To learn more visit
www.freshandco.com
About Edamam
Edamam organizes the world's food knowledge and provides nutrition data services and value-added solutions to health, wellness and food businesses. Using a proprietary semantic technology platform, it delivers real-time nutrition analysis and diet recommendations via APIs. Edamam's technology helps customers answer for their clients the perennial question: "What should I eat?"
Edamam's partners and clients include The New York Times, Epicurious, Nestle, Samsung and Random House.
For more information, please visit
www.edamam.com
or
developer.edamam.com
.
Attachments