Startup Fantelope Receives Ann Arbor SPARK Grant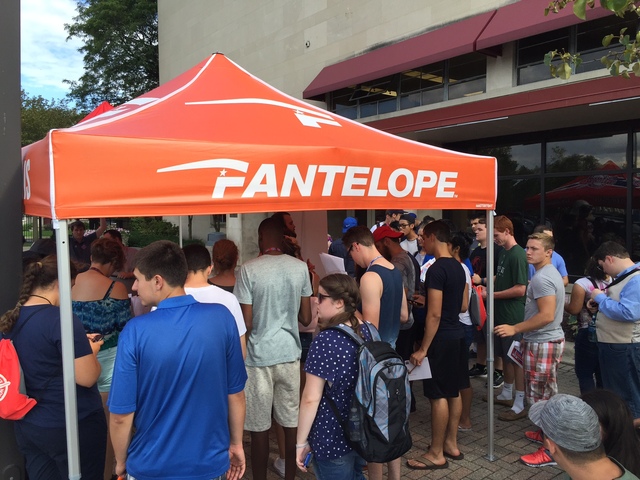 October 22, 2016 - ANN ARBOR, MI:
Fan engagement and competition platform Fantelope
announced today that they have received a substantial grant from Ann Arbor SPARK, a local nonprofit economic development agency.
After SPARK's extensive vetting process for grantseekers, Fantelope was awarded a Phase IV grant, up to $40,000, for further development and strategic planning. "We are grateful to Ann Arbor Spark for their support and funding as we grow our company. Fantelope will use the funds to hire local developers and consultants who will improve our technology and help us to grow our user and customer base," said Derek Mehraban, Fantelope CEO and Co-Founder. "Ann Arbor SPARK's support will help position us to to raise seed capital in the coming months as we reach out out to investors throughout Michigan and both coasts."
Fantelope is a
fan engagement platform
that benefits sports fans who want to stay connected to their favorite college, pro, or high school teams. It is free, easy, and fun to use - and fans can earn points toward rewards like gift cards, signed jerseys, social media shout-outs, and more.
The Fantelope app also benefits teams and sponsors by finding and captivating their fans wherever they are - home, at the game, or on the move. Fantelope launched in IOS and Android app stores in the Spring of 2016, has established a partnership with the Detroit Mercy Titans, and anticipates a steady stream of new team partnerships and fan participation in the coming months.
"Ann Arbor SPARK's grant program, generously funded by the Ann Arbor/ Ypsilanti SmartZone, is an important way entrepreneurs in our region receive the support they need from the very start of their business. These early stage ventures often struggle to find funding they need for projects like legal assistance and marketing and branding — services that can help them cross a chasm and keep moving forward," said Bill Mayer, Vice President of Entrepreneur Services at Ann Arbor SPARK. "Fantelope is an exciting new business that we're thrilled is choosing to call Ann Arbor home, and tap into the resources in our regional entrepreneurial ecosystem."
Ann Arbor SPARK improves the Ann Arbor region by providing education and resources for business growth, retention and attraction. One of the ways SPARK does this is through business development grants like the one awarded to Fantelope and other start-ups.
"The opportunities provided by SPARK to drive local startups is unmatched. I'm thrilled to partner with Fantelope to introduce a differentiated fan engagement platform to the sports space," said Andrew Fine, Principal of AHF Consulting.
More About Fantelope
: The ultimate fan competition and engagement platform, Fantelope will be the one app that sports fans use to interact with all their favorite college, professional and high school teams. Fantelope will continue building innovative features that will provide ongoing support for those goals.
Fantelope is a free mobile app available on the IOS App Store and Google Play Store.
Email Fantelope - Fan Engagement Platform