Bagwell Promotions Helps Businesses Use Giant Christmas Stocking To Increase Holiday Traffic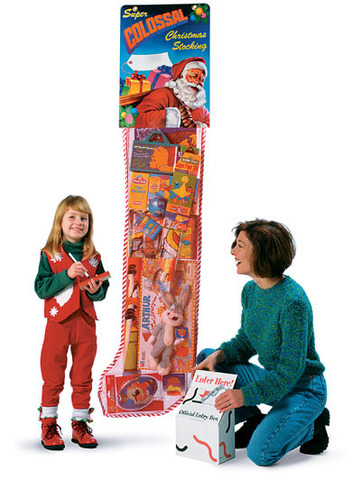 October 31, 2016 - Getting traffic into a retail store can be a challenge – even at Christmas. Many stores have found that creating a sweepstakes or drawing attracts extra attention.
One solution to this problem is
The Giant Christmas Stocking from Bagwell Promotions
. This retail traffic promotion program comes with a 6 or 8 ft tall stocking that has been filled with toys along with entry blanks to be filled out by the customers, a registration box, attention grabbing posters to promote the contest as well as a press release packet.
5 Star Rental Purchase
, a chain of rent-to-own stores in Florida and South Carolina has used this promotion for years. According to Jeff Underwood, President, "We have always, at 5Star Rental Purchase, used the Giant Christmas Stocking in our holiday flyer as a register to win promo. We buy one per store. It's a great way to dress up the store for Christmas and it certainly helps create excitement for our associates as well as our customers." Underwood concludes that this is a "no-brainer."
The stocking is not only attention grabbing, it's memorable and kids love it. Businesses purchase the stocking as a retail traffic promotion and use the entry blanks supplied with the stocking for signing up for a giveaway. At the end of the promotion, the store can use the entry blanks to create a mailing list to engage with them in the future.
The President of
Bagwell promotions
, John Bagwell says, "We've used this program for just about every possible retail establishment including restaurants, car dealers, furniture stores, check cashing stores, banks and credit unions, restaurants and rent-to-own stores. In fact, just about any business that has, or wants family traffic, can use this promotion."
A lot of family restaurants purchase the stocking every year and place it at the front of the restaurant. "It's a great way for the restaurant manager to keep the kids occupied while customers are waiting to be seated by the hosting staff," adds Bagwell.
"Typically almost 80 percent of our customers reorder each year, claims Bagwell, "but we have also seen an increase in companies who are using the promotion for the first time."
Bagwell is also able to drop-ship the stockings to individual store locations. "It's not unusual for us to ship to 50 or 60 locations," says Bagwell.
Additional information is available at the
Bagwell Promotions web site
. or by calling toll free 1-866-281-8830.
About Bagwell Promotions :
For over 30 years,
http://www.bagwellpromotions.com
Bagwell Promotions
has offered over 500,000 imprinted promotional products from 4,100 suppliers such as coffee mugs, pens, flashlights, magnets, ID bracelets, key chains and an assortment of apparel.
Email Bagwell Promotions`