Vietnam Tour Packages On offer to Australian Travel Agencies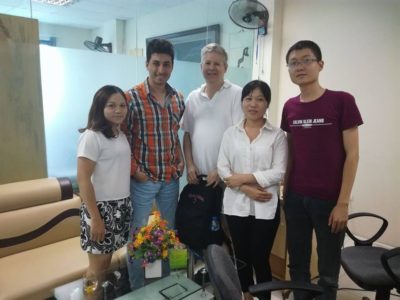 October 28, 2016 - Viet Center Tourist & Event (
www.vietnamtourpedia.com
) is a full time travel agency with its headquarter based in Hanoi, has invited a leading Australian tour operator as well as some of the top and well known travel agents to visit Vietnam in order to open a new opportunity and a new market from Sydney, Australia.
Mr. Pham Huy Thong, the CEO and founder of Vietnam Tour Pedia has declared the aim and the main purpose of this invitation to showcase some of the best as well as less visited sites and things to see and to do in Vietnam for the Aussie holidaymakers. In addition, this was due to the many relations between Vietnam and Australia over the past decades. Also,
Vietnam tour packages
are among the the top 3 choices for Australian traveler in Asia, added Mr. Thong
Some of the best and well taken Vietnam Tour and holiday packages over the years was an itinerary to visit Hanoi,
Halong Bay Cruise
, Sapa and its many choices for home-stay, a few day visit to Hue and Hoi An, a leisure stay in Nha Trang that represent one of the Vietnam's best beaches with its many luxury resorts and world class hotels across the city as well as the promising visit to Ho Chi Minh city and the delta of Mekong which makes any visit a long reminded and well stay in anyone's mind, said Hamid, Online marketing manager of Vietnam Tour Pedia
In addition, Hamid said, we are delighted and more than happy to receive these travel agents and top tour operators took time out of their busy work programs in Australia to flight over Vietnam and visit what we call them a charm of the Asia, there are many other things that could be seen by the agent's representatives just while they are traveling through Vietnam.
In particular, Australian tourists are among the top visitors in Vietnam and South-East of Asia and this is a great chance for local tour operators like Vietnam Tour Pedia to target its market and growth the benefit accordingly. A 3 weeks very well planned and promoted Vietnam tour Packages could be a best sample to offer to the Australian market. As tourism veteran we have been in the Vietnam tourism since decades and we know what works for who, this is what we call It experience which we use it to enhance the pleasure of each and every single
Vietnam holiday deals
we offer to the partners. Other tour packages including Vietnam and Cambodia luxury cruise deals as well as culinary vacations has always been in the bucket list of Aussie travelers and based on this the offered packages in Vietnam Tour Pedia's website has been designed and planned, said Mrs. Tran Hoa, Online Tour Manager
About Vietnam Tour Pedia
With more than decades of locally conducted experience in Vietnam and South East of Asia is now happy to offers its Vietnam tour and holiday packages to traveler markets all around the world. Also, consumers can book a Vietnam holiday deals or request information by visiting our website or by calling the following numbers.
Address: 3rd Floor, No 23, Alley 37/2, Dich Vong Street, Cau Giay Dist, Hanoi, Vietnam
Hotline: (+84) 4 6281 6212/13