New Western Cutting-edge Technology Now Encompasses All Texas Markets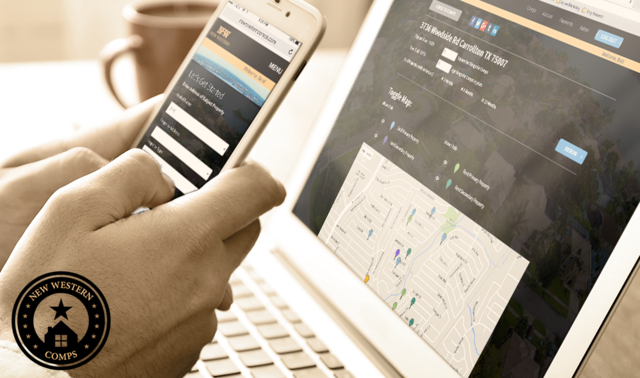 October 29, 2016 - Irving, Texas:
Real estate brokerage firm New Western Acquisitions has been helping develop the success of real estate investors by providing the best investment tools and resources. New Western's state-of-the-art comp system, first released in the Austin and
Dallas-Fort Worth markets
, was a huge success. Now, the company is announcing the release of such technology to San Antonio investors.
"Since New Western Comps launched, we have added MLS data from DFW, Houston, and Austin. We are excited to expand to the South Texas, San Antonio Market," said New Western's VP of marketing, Heather Harrington. "It was our goal to provide complete coverage of the most booming real estate markets in the state of Texas, and we have!
We wanted to provide a platform for our customers that allowed for better investment choices that net maximum ROI." Harrington continued. "So, our system was designed to allow users to calculate and compare financing choices that might affect their current investment strategy."
The New Western Comps
engine pulls live MLS data on recently sold and leased properties in the area. If investors are looking to purchase an investment property, they are supplied with all the details and can make informed choices. The newest development provides San Antonio investors access to MLS in all the cities within the metro area.
Central to the system's cutting-edge technology is the ability for users to customize and save Comparable Market Analysis, or CMA, reports, then calculate and compare different financial options for their target properties. These types of reports, when pulled by a realtor can often reflect a bias for profitable property values, comps from which they will benefit, and profit. This bias could potentially skew reports, so the Comp System bypasses this possibility by giving investors control over a full range of abilities, and therefore, supply more accurate results.
Users of the New Western platform can pull their own CMA data on all prospective properties in the San Antonio market. Advanced algorithms then calculate the data and compare results of different financing options, depending on specific investment strategies. If investors plan to flip or hold their property, the New Western Comp System previews potential outcomes of their particular strategy. They can then weigh the benefits of using bridge loans, conventional loans, or cash, and make an informed decision.
"We have also released some new features and calculations that make for a better diagnostic of the target property with a high focus on the mobile user experience," Harrington said. "Our sleek new mobile design allows you to get this information right at the property, at showings or auctions."
Investors lead busy lives, and occasionally need to make critical decisions on-the-spot. New Western has also developed their Investor App to be an excellent guide when making important investment decisions on-the-go. Investors can access the power of the New Western Comp System engine on their smartphones in real-time, anywhere. The Comp System presents all of this information in an easy-to-read format that is user-friendly, and users even have the option to print or save their reports, expand upon details of their custom-chosen property, and review as many properties as they'd like.
Investors in the Dallas-Fort Worth, Austin, Houston, and San Antonio areas are invited to take advantage of this technology. The company plans to keep their momentum going into other states, with the launch of this comp technology for Central Florida markets in the coming months.
About the company: New Western Acquisitions, a Dallas-based company, got its start in the midst of the 2008 housing crisis. In two short years, the company was using its ground-breaking technology, unique brokerage style, and a highly motivated team as the business model that would lead them to exponential growth. To date, New Western's affiliated holding companies have acquired and taken title to enough single-family homes to be named one of the largest brokers of distressed investment properties in the nation.
Email New Western Acquisitions