Thomas Jefferson School of Law Makes History: First All African-American Women Law Review Managing Board in California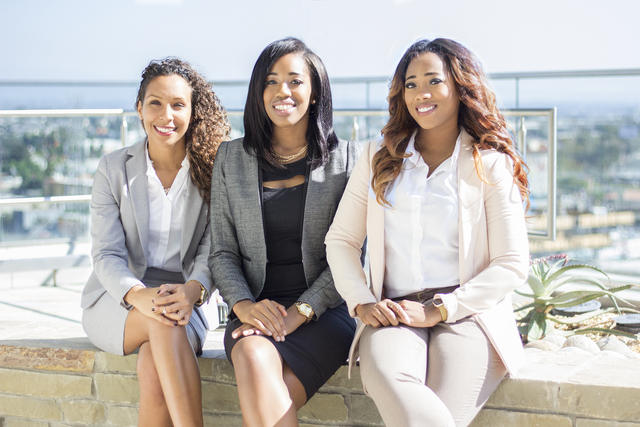 SAN DIEGO, CA, 11/2/16 – Thomas Jefferson School of Law is proud to announce its very first all African-American Women Managing Law Review Board. Not only is this a first in the law school's history, but the first in California and possibly the first in the nation from an ABA accredited non- historically black college and university (HBCU) law school.
"Justice is a direct result of increasing the diversity of voices among law professionals. Our, industry, however, is only as diverse as its pool of law students," says Thomas Jefferson School of Law Dean and President Thomas Guernsey.
As the first all African-America Women Managing Board of the most prestigious institution related to legal education, these women embody this belief and continue to overcome obstacles and limitations set forth by society.
Liku T. Madoshi (3L) is the Editor-in-Chief of the Thomas Jefferson Law Review Journal and oversees the entire Law Review. Briana Givens (3L) is the Executive Editor and is responsible for the editorial aspects of the Law Review. Monique Larmond (3L) is the Managing Editor and manages the day-to-day operations of the Law Review.
These three women have not only worked hard throughout law school but have also been very involved in the Thomas Jefferson School of Law community with hopes to serve the San Diego community, and eventually the society at large, as positive role models. Despite their continued success, these promising, diverse, young professionals have only scratched the surface of their goals and recognize there will always be work to be done. This is a trailblazing moment, in which Thomas Jefferson School of Law is ecstatic to be a part of.
"What I most appreciate about this historic and proud milestone is that it conveys for all to see that it is indeed possible to uncompromisingly pursue and achieve both excellence and diversity as simultaneous goals," says Thomas Jefferson School of Law Professor and Chair of the Diversity Committee Maurice Dyson. "This is not only a proud achievement for the law school, but a milestone for the legal profession and for every aspiring lawyer, and lawyer of color, to know you can overcome any challenge and overcome the odds to achieve your highest potential."
The Thomas Jefferson Law Review was originally published in 1976 as the Criminal Justice Journal, then for a brief time as the San Diego Justice Journal. This was during the time when Thomas Jefferson School of Law was known as Western State University College of Law. In 1996, the journal's name changed to Thomas Jefferson Law Review to coincide with the renaming of the law school. The Thomas Jefferson Law Review is published at least twice each year in the Fall and Spring.
The mission of Thomas Jefferson School of Law is to provide an outstanding legal education for a nationally-based, diverse student body in a collegial and supportive environment with attention to newly emerging areas of law, particularly those related to technological development, globalization and the quest for social justice. Located in Downtown San Diego, Thomas Jefferson School of Law has evolved into an innovative, cutting-edge law school, devoted to the individual needs and success of its students. More information is available at
www.tjsl.edu.
—- END —-
CONTACT: Thomas Jefferson School of Law Director of Marketing and Communications Edgar Hopida, 619-961-4314 or 619-913-0719,
ehopida@tjsl.edu
Email Thomas Jefferson School of Law