Thomas Jefferson School of Law Moot Court Intra-School Competition a Success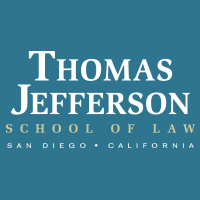 San Diego, CA 11/15/16 - On October 28-29, 2016, Thomas Jefferson School of Law held its annual Intra-school Moot Court Competition.
Each year, the law school in conjunction with the Moot Court Honor Society holds this competition to serve as the official try-out for the team. Students register for a one unit course in the Fall, write an appellate brief, and compete in an elimination-style oral argument tournament.
Professor Steven Semeraro and Adjunct Professor and Honor Society alumnus Elizabeth Atkins oversees teams of two students as they diligently research and write an appellate brief. The Society provides mentors to each team and helps prepare them for oral argument.
This year's competition focused on two criminal procedure issues before the fictional Supreme Court regarding a hotly debated national issue – reverse stash house stings carried out by the Bureau of Alcohol Tobacco & Firearms (ATF). Students had to first argue whether ATF officers seized a suspect for Fourth Amendment purposes when an officer used deadly force in apprehending the suspect, but the suspect ultimately escaped custody. Second, the student advocates called the entire ATF operation into question by arguing whether the reverse-stash-house stings violated the Fifth Amendment as outrageous government conduct.
On Friday, many attorneys and alums from the community volunteered to judge the preliminary rounds. The judges included current assistant United States attorneys, deputy district attorneys, private defense attorneys, moot court and TJSL alums, and civil litigators. The Moot Court Honor Society received only positive reviews regarding the judges' professionalism and preparation, and gives many thanks for their time and effort.
Four teams moved to the semi-finals:
(1) Stephanie Fitzsimmons and Angela Hampton;
(2) Michelle Johnson and Bridget Madden;
(3) Christopher Smith and May LaRosa; and
(4) Yuliya Davidzenka and Maria Zhuravleva.
An esteemed panel judged the two semi-finals: Ron Rockwell, private practitioner, Edith Polanco, ABA Immigration Justice Project and prior Moot Court alum, Garett Gorlitsky, deputy attorney general, Joel Garcia, current Moot Court chair, and Kimberly Roth, deputy district attorney and prior Moot Court vice-chair. The Judges sat through two grueling rounds back-to-back, yet were able to maintain a hot bench, peppering the competitors with questions.
Johnson/Madden and Fitzsimmons/Hampton advanced to the final round where retired Judge William H. Wise served as the Chief Justice, and Patrick Hovakimian, assistant United States attorney, Brian Del Vecchio, adjunct professor and prior Moot Court chair, Elizabeth Atkins, adjunct professor, and Kaimipono Wenger, Professor of Law rounded out the court.
This panel of judges was particularly tough, firing questions at the competitors as they argued their positions confidently despite intense pressure from the bench. The judges were impressed by all four women, commenting on their oral argument abilities, their poise and deference to the bench, and that each oralist had obviously prepared thoroughly.
Ultimately, Johnson and Madden won the competition, with Christopher Smith winning best oralist. Best brief awards went to Davidzenka/Zhuravleva and Johnson/Madden.
All the judges' time and commitment is much appreciated by the Moot Court Honor Society, and we sincerely thank each competitor for doing a remarkable job.
The mission of Thomas Jefferson School of Law is to provide an outstanding legal education for a nationally-based, diverse student body in a collegial and supportive environment with attention to newly emerging areas of law, particularly those related to technological development, globalization and the quest for social justice. Located in Downtown San Diego, Thomas Jefferson School of Law has evolved into an innovative, cutting-edge law school, devoted to the individual needs and success of its students. More information is available at
www.tjsl.edu/
.
CONTACT: Thomas Jefferson School of Law Director of Marketing and Communications Edgar Hopida, 619-961-4314 or 619-913-0719,
ehopida@tjsl.edu
Email Thomas Jefferson School of Law