Ahhh-Mazing MasterPieces® Corners the Market on Cool Crafts for Kids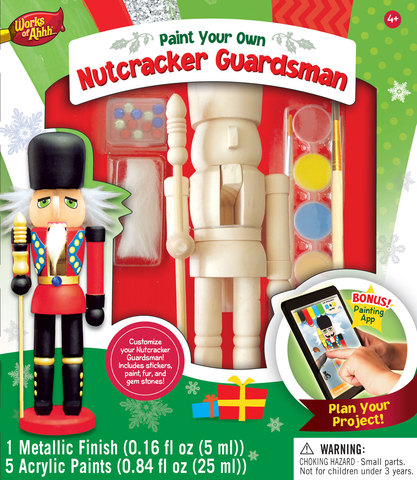 November 16, 2016 - Introducing the Ahhh-Mazing
Works of Ahhh®
Craft Collection by MasterPieces Inc. The company announced today their continued expansion of the established Works of Ahhh line of unique all-inclusive craft kits for kids (and adults).
A variety of Works of Ahhh kits are available year-round, but the company's Works of Ahhh holiday items gain extra attention at this time of year. Most popular among the collection are Prince and Drummer. With booming success around the holidays, they have announced some of the latest additions to the Works of Ahhh 2016 Nutcracker Series which include Candy Man, Mouse King, and Herald. These new nutcrackers are all available to ship today just in time for the holiday season.
David Rolls, President of MasterPieces, said, "Our Works of Ahhh kits are great crafts for both boys and girls, young and old. There is something for everyone. Particularly during the holiday season, the nutcracker kits are great for group activities as well as individual projects. These kits make great original homemade decorations or gifts."
Each Works of Ahhh kit (MSRP $14.99 - $24.99, for ages 4 and up) includes everything you need to create a personalized work of art. The kits contain a handcrafted pre-built object made from real wood, and all accessories needed for that particular kit including (but not limited to) two artist-quality paint brushes, gem stones, stickers, and non-toxic acrylic paint.
To prepare and experiment before the real project begins, MasterPieces offers an exclusive Works of Ahhh painting app (available for FREE from
Google play
or the
Apple App Store
). The app can be coordinated with any specific project and allows planning, 3-D views and visualization before the official painting begins. In addition, MasterPieces provides a painting guide with tips on how to paint each project and suggestions for advanced techniques such as mixing colors and blending shades. The company notes that the tips and painted examples are only suggestions and the possibilities for creativity in any Works of Ahhh kit is only limited by a child's own imagination.
Works of Ahhh are great for parties, school projects or fun at home with the family.
In addition to the holiday themes, other Works of Ahhh kits include outdoor kits that come with vanish, boy themed kits that include metallic paints, and viable licensed Works of Ahhh versions for John Deere tractors, US Army tank and helicopter, and Caterpillar construction vehicles. All kids can enjoy the popular Works of Ahhh birdhouses, jewelry boxes, race cars, wind chimes, fairy garden and treasure chests, among others.
MasterPieces also offers a FREE contest for finished Works of Ahhh projects.
The rules are simple:
You must be between the ages of 4 and 13 to enter.
Use the Works of Ahhh… 3D Painting App to "Plan Your Project."
- *If you don't have access to download the app, that's ok! You can still enter the contest.
Your painted entry must match your digital project.
You must use at least one of every accessory that is included in your kit (stickers, stencils, gems, etc.).
Provide a screen capture of your 3D project and a photograph of your newly finished painted craft kit.
Winners selected monthly
About MasterPieces Inc.
MasterPieces Inc. was founded by David Rolls, former 8-year professional baseball player for the Kansas City Royals and Texas Rangers organizations, in 1995 with a passion to serve diverse retail markets and partner with evergreen brands and top puzzle artists. Twenty years later, MasterPieces has established itself as the market leader for combining the best quality products with the best value. Headquartered in Tucson, Arizona, MasterPieces reputation for producing innovative and high-quality products has propelled its global growth and the company's commitment to ensuring great value and superior customer support has earned its dedicated, worldwide customer loyalty. MasterPieces creates some of the world most elegant puzzles and innovative packaging, as well as toys and gifts, while also partnering with brands such as John Deere, John Wayne, Tetris, Animal Planet, Hershey's, and sports licensing with MLB, NFL, NCAA, NHL organizations. For more information about MasterPieces, visit the company website at
MasterPiecesInc
and for the most immediate information and interaction with the company, please like and follow MasterPieces on
Facebook
,
Twitter
,
Pinterest
, and
YouTube
.