Will Tactic's New Colorology Game Show Your True Colors?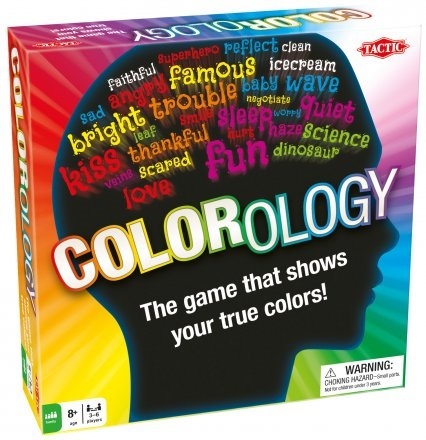 It's a colorful new approach to game play when Tactic Games releases its new Colorology, a game of color association.
What color do you think of when you hear the word "Christmas"? Green, Red, White? What about the word "car"? Is a car Black, White, Blue? Then, what happens when words are combined? What color do you think of when you hear "pretty car"? Suddenly the answer could change. Red, Blue? In Colorology (MSRP $19.99 for 3-6 players ages 8 and up) Tactic Games offers a fun and unique study in personal color correlations.
Jay Knox, President of Tactic Games, said, "When you play Colorology you'll discover how others color the world. It's fun to hear the choices that can cause fun debates and friendly discussions. There is a color for almost anything."
To play Colorology, each player takes a turn as the COLORologist and draws a word card and chooses the color that they think best describes the word. How many of the other players will choose the same color for the word? Any player that matches the same color as the COLORologist moves forward one space. The first player to reach the finish space wins the game.
The game is a brilliant newcomer to the game world already earning a spot on the
Dr. Toy Top 10 Best Games of Year Lis
t and recommended game on Board Game Geek and
TTPM (Time to Play Magazine)
.
Available now on
Amazon
and
Wal-Mart.com
Colorology joins other great family games from Tactic Games that include, the full family of Alias games (Original, Dice, Family, Party and Junior Alias), iKNOW, Totem, Touché, Wanna Bet?, Draw Out, and Mexican Train, among many others.
About Tactic Games:
Tactic Group® is an international and fast growing developer and marketer of board games in Europe, now launching in the U.S. and Canada. For the past 48 years, the Finnish board game company has provided consumers with innovative, high-quality products that have been warmly received by the public, including award-winning Mölkky® and iKNOW®. Their mission is to produce entertaining games that offer moments of genuine delight and entertainment to family and friends the world over. To discover more about Tactic's wide range of games, visit
www.tactic.net
and get all of the most up-to-date, immediate information by interacting with the company on its social media channels:
Facebook
,
Twitter
,
Pinterest
,
Instagram
and
YouTube
.