TemplateMonster Released Update 1.3.0 for Spectrum MotoCMS 3 Theme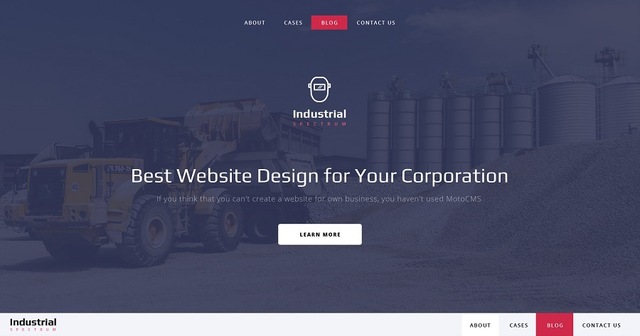 November, 30, 2016. Brooklyn, N. Y.
TemplateMonster
announces some good news for Spectrum MotoCMS 3 theme owners and for those who are just considering buying it. The theme has got a new update, providing you with more opportunities and improving its functionality.
As you know,
Spectrum
is a unique multipurpose template from
MotoCMS
team, fitting any business website. Thanks to its smart design, advanced functionality and flexibility it can be adjusted to a number of projects.
The new update brings us 3 new ready-made pages in addition to 19 that were already in the package. Among them there are
two new system pages
: Under Construction and Password Protected. You can make use of Under Construction page when you decided to make some customizations to your website after it is launched. Activate Under Construction Mode through your dashboard and your visitors will be informed by seeing this page. Password Protected page enables you to secure your website with a password. Both of the pages are fully editable and can be customized through the design section of your admin dashboard whenever you feel like that.
But the main zest of this update is a
brand new home page layout
. As a reminder, Spectrum had already 5 additional homepage layouts for niche businesses, including general, restaurant, photographer, consulting and financial layouts. Now this collection is enriched with industrial design. Thanks to the built-in block editor, released in the previous update, you can edit your website faster than ever. 60+ blocks, set of widgets and tools allow you building unique layouts and customize them in no time.
As all MotoCMS themes Spectrum has a
free 14 days trial period
. So if you feel like trying its functionality first don't hesitate to sign up to get a trial version.
"MotoCMS templates are really innovative and stand from all the other products on the market. I have a really special attitude to them, treating every new Moto template like a child. And they really are my children in a way. And I am like no one other interested in their growth and development. As a person who stood at the origins of MotoCMS project I am really proud to see what it has evolved into now. Spectrum is not just an ordinary MotoCMS template. It is a brand new level, another generation of Moto themes. It is not perfect yet, but with every new update it is strives to perfection." -
Demetrio Fortman, COO at TemplateMonster.
About TemplateMonster.com
TemplateMonster is one of the world's leading manufacturers of ready-made websites templates of any complexity. As of today, the number of products in the company's catalog of templates, and ready-made websites has exceeded 26,000 units. The company's templates work with all popular engines including WordPress, Joomla, Drupal and many others. Their customers receive ongoing 24/7 support and maintenance from personal managers. For more information, please, contact us.
Source:
http://www.templatemonster.com/press/templatemonster-released-update-1-3-0-spectrum-motocms-3-theme/