Snowbound Unveils Faster HTML5 Document Viewer, New Features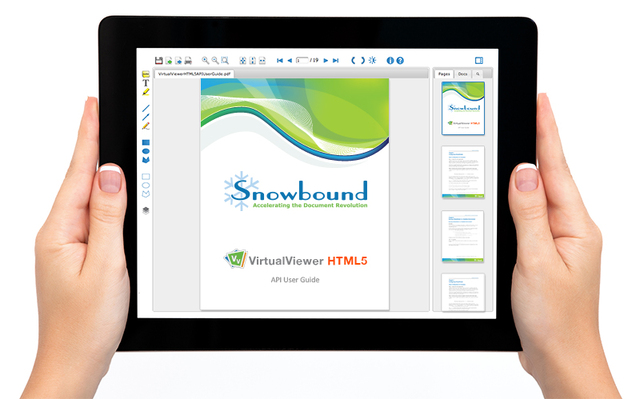 Waltham, MA (December 1, 2016) -
Snowbound Software
, the market leader in document viewing technology, today announced the release of VirtualViewer® HTML5 4.6 for both Java and .NET, the latest version of the firm's
award-winning pure HTML5 document viewer
. The new version includes performance and feature enhancements related to viewing and managing documents:
Faster Performance
Snowbound has made upgrades which allow users to view, convert, and manage Microsoft Office documents-including Microsoft Word, Excel, and PowerPoint-at increased speeds. Benchmark testing showed that the viewer now loads these documents six or more times faster than before. These enhancements are also available in the new version of the firm's document conversion SDK,
RasterMaster
.
New Pattern-Based Text Searching
Snowbound has added the ability for users to search for patterns in text, including social security numbers, phone numbers, credit card numbers, and e-mail addresses. Users can use this feature to quickly locate, redact, or collaborate on important information within documents.
New Drag & Drop Functionality
Users are able to move individual or multiple pages from a document into a new or existing document by simply dragging the thumbnail(s) into the desired tab. Allowing the user to move and rearrange pages within a single viewer across multiple tabs simplifies document manipulation and creation.
Enhanced Annotation Display
The viewer now displays user information on each annotation, including the date and time stamp for when the annotation was made.
"Our customers are constantly looking for ways to speed up their processes and make their workflows more efficient," said Snowbound's Chief Operations Officer, Mike Sabourin. "In upgrading our performance and adding these functions, we ensure they enjoy the fastest and most feature-rich document viewing experience available."
The release also includes the addition of DWG support for the DWG file format for 64-bit Windows systems. DWG is the native file format for AutoCAD data files, which is used across a wide range of industries by architects, project managers, engineers, and graphic designers.
Snowbound's VirtualViewer HTML5 document viewer is a pure HTML document viewing solution enabling file retrieval through a universal web application. It does not require any client-side installation or plug-ins such as Flash, Adobe, or Office. VirtualViewer HTML5 works with any modern browser, provides on-the-go mobile document viewing, and delivers flexible cross-platform support. It is available for both Java and .NET.
Pricing and Availability
VirtualViewer HTML5 v4.6 for Java and .NET will be available by the end of December. RasterMaster v14.6, which also includes the performance enhancements for Microsoft Office, is available now. For more details, please call (617-607-2010) or visit Snowbound.com.
###
Who is Snowbound Software?
You may not realize it, but you probably interact with us several times every day. For two decades, Snowbound Software has been the pioneering leader in document viewing and conversion technology. Snowbound excels in providing enterprise customers with powerful viewing and conversion technology for capturing, viewing, processing, and archiving hundreds of different document and image types.
Thanks to its pure HTML5 technology, Snowbound's products operate across all popular platforms and can be easily integrated into new or existing enterprise content management systems.
Nine of the ten largest banks in the United States (7 of 10 in the world), as well as some of the biggest healthcare providers, government agencies, and insurance companies in the world rely on Snowbound for their mission critical needs.
For more information, contact us at 617-607-2010
orinfo@snowbound.com
, or visit
www.snowbound.com.
Twitter:
http://twitter.com/snowbounds
LinkedIn:
http://www.linkedin.com/companies/snowbound-software
Facebook:
http://www.facebook.com/snowboundsoftware.
###
VirtualViewer is a registered trademark of Snowbound Software Corporation.