TemplateMonster Reports On the First "Your Web Studio in 61 Days Marathon"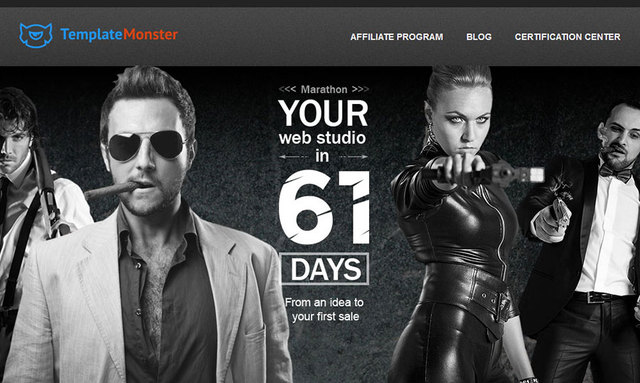 December 14, 2016 - TemplateMonster
announces the finish of the first "
Your Web Studio in 61 Days
" Marathon. A free educational resource for young web developers who are eager to start their own business and launch their own web studios in 61 days.
It started on the
26th of September
and finished on the
4th of December
. The marathon lasted for
61 days
and included
10 lessons
.
It was targeted on the ambitious people searching for their place in life, on those who wanted to show everyone what they are up to, on those who were ready to start their online business.
In 61 days, the chosen ones were to learn how to:
Build websites professionally
Set up and manage teams of developers and designers
Get along with clients
Keep up with the legal aspects of running their own business
And sell, sell, sell…
The participation in the marathon was
absolutely free
. The courses included practical tasks that each participant had to complete. It they didn't fulfill a task, they left and lost the right to access the materials of the course.
Yea, the marathon rules were really rigorous.
There were nearly
700 participants
at the marathon start. Only
17
of them entered the final stage. One and only
champion
and three
prize-winners
were among those 17 geeks.
All finalists are really the best. They worked hard to complete all practical tasks, they sent the answers to the questions on time, they didn't hesitate to contact TemplateMonster and specify the details when they had any issues with one task or another.
At the present moment, all finalists have the required knowledge and skills to create websites and earn money in web design and development field.
TemplateMonster has chosen a few guys from the finalists. Their final works were the most complete, they sent the most substantial answers to all lessons assignments. All of them got special partnering offers from TemplateMonster as well as other prizes.
The winners were asked to tell about themselves and share their impressions as to the marathon.
Their interviews are surprising. All guys are different, nevertheless, each of them found the way to step away from their comfy routine lifestyle to achieve something bigger.
The champion's name is
Jose Antonio Labandibar
and he gets the iPod Shuffle and a 100% promo code on any TemplateMonster product. He is a software developer working in a VR company now, but he wants to get his own software company.
3 winners get 100% promo codes.
John Fawcett
is the first winner. He works full-time as a Graphic Designer at Visual Marking Systems, Inc. and has been in the graphic arts/photography industry for over 35 years.
The second winner is
Adri Myburgh
. Starting her own web studio was something he dreamed of doing since he studied. He never knew where to start or what tools to use to get his business going before the marathon.
The third winner is
Steven Pownall
. He is a Digital Marketer, who's been working with websites for the past 5 years and I've now settled in an eCommerce and Digital Marketing position. In September of 2016 as he continued to put the pieces together for Aseeum Computer Technologies, TemplateMonster.com Marathon was announced.
You can read the winners detailed interviews in the "
Your Web Studio in 61 Days Marathon
" is Finished: Greet the Champions!
blog post
.
But the
sweetest thing is that you can register for the second Your Web Studio in 61 Days Marathon at upcoming session early next year
.
The updated, improved challenges, more practice, and communication with mentors are waiting for you, so, don't miss the
opportunity
!
"TemplateMonster is very happy to become an educational hub for young web developers, who are interested in web design niche and are willing to create their own web studios. TemplateMonster Marathon is a one of a kind resource, that provides newbies with profound knowledge in web studio launch, starting from web development process and ending with receiving your first web development order. –
Demetrio Fortman
, COO at TemplateMonster.
About TemplateMonster.com
TemplateMonster is one of the world's leading manufacturers of ready-made websites templates of any complexity. As of today, the number of products in the company's catalog of templates, and ready-made websites has exceeded 26,000 units. The company's templates work with all popular engines including WordPress, Joomla, Drupal and many others. Their customers receive ongoing 24/7 support and maintenance from personal managers. For more information, please visit our website!
Source:
https://www.templatemonster.com/press/templatemonster-reports-first-web-studio-61-days-marathon/