TemplateMonster Affiliate Team Presented TM Reviews Widget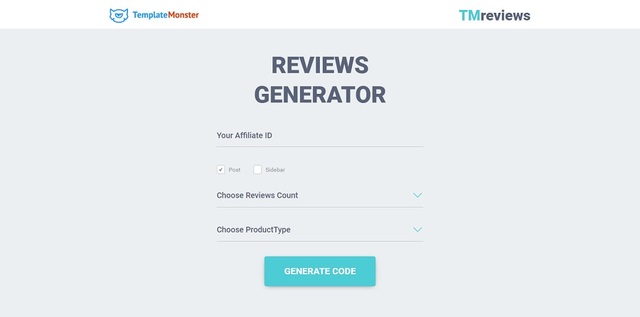 January 5, 2017 Ft. Lauderdale, FL.
TemplateMonster
announces the release of an all-new tool for its affiliate partners -
TM Reviews
. With the help of this smart widget, you can generate and display user testimonials in blog posts and sidebars of your site.
The value of user testimonials for online merchants is incomparable. This is one of the most influential tools that have impact on the customers' decision-making. This is an indispensable component that shows merchants that their offers are in demand. Both positive and bad reviews matter for the people who make online purchases and sell. Why? A piece of text written by a real customer sounds more trustworthy than a well-crafted marketing content.
80% of customers who read reviews are likely to make a purchase.
A mix of good and bad reviews increases customers' trust.
Negative reviews boost conversion rates by 67%.
Having user reviews displayed on your site means that you have better offerings than your competitors.

User-generated content increases a brand's visibility in search engines.
By means of TM Reviews Widget, one can display a series of user testimonials on his site while simply generating a code and inserting it in posts/sidebars of a website. TM Reviews is an absolutely free widget that TemplateMonster has added to their
affiliate toolbox
. Simple and intuitive in management, the widget allows you to generate a custom review code in
6 easy steps
. Here is how it works:
Enter affiliate ID number of an affiliate, on whose website user reviews will be displayed.
Select "post" or "sidebar" option, depending on the place where you want reviews to be displayed.
Choose the number of reviews to display (3-4 reviews are recommended).
Select a CMS. If a post, where you want reviews to be displayed, highlights all the things related to Joomla, then select Joomla CMS in the respective menu.
Click "generate code" button.
Copy the code and insert is in a post/site.
That's it. You can generate as many codes as necessary. The widget generates reviews for all types of products that TemplateMonster sells. These include both blogging and eCommerce solutions, as well as landing pages.
"TemplateMonster Affiliate program boasts a huge toolbox that its partners can use at absolutely no cost. We value the time and effort that our affiliates apply to display collections of our products on their web resources. That's why we try hard to facilitate and speed up the process of displaying themes collections as much as possible. Instead of running routine tasks, we want to give our partners the freedom for revealing their creative souls and watch the revenue growth. Having user testimonials displayed on a website is a sure-fire way to grow customers' trust and boost sales. TM Reviews Widget is a handy tool to attain the desired results with minimum investment."-
James Berg, CMO at TemplateMonster.
About TemplateMonster.com
TemplateMonster is one of the world's leading manufacturers of ready-made websites templates of any complexity. As of today, the number of products in the company's catalog of templates, and ready-made websites has exceeded 26,000 units. The company's templates work with all popular engines including WordPress, Joomla, Drupal and many others. Their customers receive ongoing 24/7 support and maintenance from personal managers. For more information, please, visit our website.