ProStorage™ Announces New Compact Design: The ProStorage 6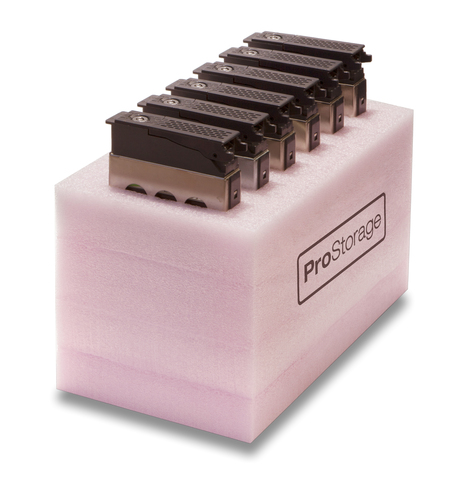 January 4, 2017 - ProStorage™ announces the launch of its newest design, the ProStorage 6, for when 18 to 24 slots are just too many. Manufactured from dense anti-static 2.2 polyethylene closed cell foam, the ProStorage 6 secures hard drives with layered protection against shock and static corruption. The versatile ProStorage 6 accommodates a diverse range of drives including 3.5 inch IDE/ ATA/ SATA HDD hard drives, RAID Sleds, and LaCie Rugged drives. Each ProStorage 6 unit holds up to 6 drives and comes with an anti-static lid for extra protection.
The ProStorage 6 fits a standard filing cabinet drawer or banker's box, providing room for other valuable files and equipment to be stored in tandem. With its innovative finger pull design, hard drives are safely stored but readily available. Both light (.86 lbs.) and intuitive, the ProStorage 6 allows for simple and easy installation. The ProStorage 6 is a compact yet effective storage solution for any office or home looking to secure, protect, and organize valuable data.
Founder and creator Michael Grecco puts his trust in ProStorage™ systems. "As a professional photographer and filmmaker, I never want to lose my work. That's why I created ProStorage."
ProStorage 6 is available directly through
GetProStorage.com
.
Samples available for review.
www.getprostorage.com
• 323 -741- 4702 •
Sales@GetProStorage.com