MasterPieces to Reveal Realtree® Camo Puzzles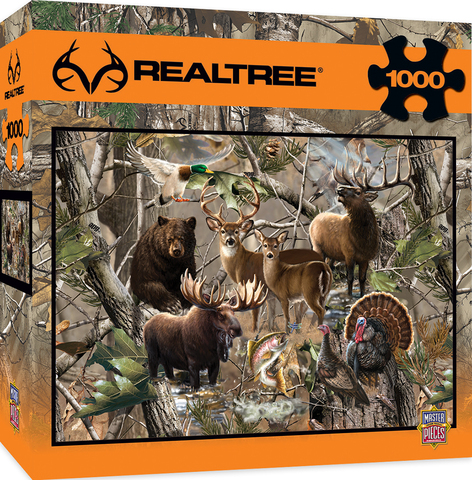 January 11, 2017 - MasterPieces Inc. today announced plans to reveal its new line of Realtree camouflage puzzles.
In an agreement with Realtree, the nation's #1 camo brand, MasterPieces combines original woodland scenes with camo patterns for an authentic line up of 1000-piece puzzles designed for outdoor enthusiasts, wildlife admirers, sportspersons and hobbyists everywhere.
David Rolls, President of MasterPieces, said, "By working with Realtree, we have a perfect alignment to deliver some of the most beautiful natural scene puzzles that MasterPieces has ever offered. The amazing Realtree camo patterns make these puzzles unlike any other wildlife or nature scene ever created."
Kristy Barnes, Licensing Manager, Realtree, added, "The best part my job, and our entire Realtree Team's job, is connecting our partners with the many loyal Realtree customers around the world. It's great for business, our fans and the outdoors! It's especially fun when we can introduce a company like Master Pieces to our market. We truly look forward to watching their business grow with ours,"
The first four puzzles in MasterPieces Realtree line include popular North American animals in forest scenes as well as a rustic cabin and fishing scenes.
The new puzzles will be on display at the upcoming American International Toy Fair held in New York City in February. MasterPieces plans to have the puzzles in stores everywhere in the Spring 2017.
"As we move forward in our work with Realtree, MasterPieces plans to other Realtree products, such as games and other kits, in addition to more puzzles," Rolls said.
About Realtree:
Realtree is the world's leading camouflage designer, marketer, and licensor with over 1,500 licensees utilizing the Realtree camouflage brand. Thousands of outdoor and lifestyle products are available in Realtree camouflage patterns. In addition, Realtree is committed to supporting individuals and groups that work to ensure our outdoor heritage, the conservation of natural places and the wildlife that resides there. In fact, Realtree is one of the nation's leading contributors to conservation groups such as Ducks Unlimited, the National Wild Turkey Federation, the Rocky Mountain Elk Foundation and others. Realtree promotes its products and relationships widely on television as well as through
Realtree.com
and many other outlets. For more, visit
www.Realtree.com
.
About MasterPieces:
MasterPieces Inc. was founded by David Rolls, former 8-year professional baseball player for the Kansas City Royals and Texas Rangers organizations, in 1995 with a passion to serve diverse retail markets and partner with evergreen brands and top puzzle artists. Twenty years later, MasterPieces has established itself as the market leader for combining the best quality products with the best value. Headquartered in Tucson, Arizona, MasterPieces reputation for producing innovative and high-quality products has propelled its global growth and the company's commitment to ensuring great value and superior customer support has earned its dedicated, worldwide customer loyalty. MasterPieces creates some of the world most elegant puzzles and innovative packaging, as well as toys and gifts, while also partnering with brands such as John Deere, John Wayne, Tetris, Animal Planet, Hershey's, and sports licensing with MLB, NFL, NCAA, NHL organizations. For more information about MasterPieces, visit the company website at
MasterPiecesInc
and for the most immediate information and interaction with the company, please like and follow MasterPieces on
Facebook
,
Twitter
,
Pinterest
, and
YouTube
.