New Year of Greatest Achievements Starts With TemplateMonster, Get Any Product 30% OFF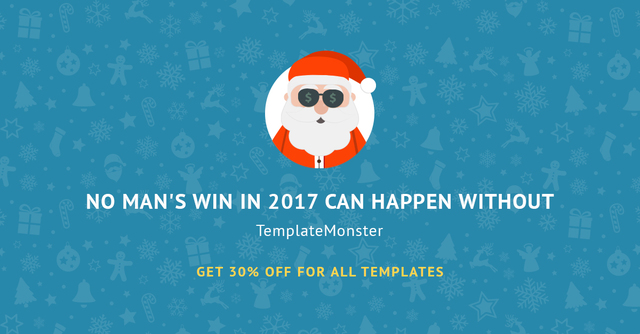 January, 24, 2017. Ft. Lauderdale, FL. TemplateMonster launches the first promo campaign of the New Year. For one week only, everyone who orders TemplateMonster's products can save 30% on the cart.
New Year starts with great news from all TemplateMonster's team. We work hard to present you with the trendiest and most revolutionary ready-made designs. We strive to make it super convenient to build sites with our help. We also take care of your budget and launch the first promo campaign of 2017.
For one week only, on
January 24-26
, you can grab any product from the inventory at a 30% discount. No matter if it's a common blogging or eCommerce template, any of our premium extensions or landing pages, you can grab the preferred item at a lower price.
How to grab your promo-code?
Go to www.templatemonster.com.
You will see a popup containing terms and conditions of the promo-campaign.
Click "Get a discount" button, and all prices will be automatically slashed by 30%. A countdown timer in the header of the site will keep you alerted on the remaining time when a promo campaign will be valid.
Important:
In case you close the popup notification, the site will keep on displaying regular costs of all items in the gallery.
"You are not limited on the amount of templates or plugins that can be purchased during the promo campaign. The CMS or eCommerce platform that you choose doesn't matter either. TemplateMonster cut price on ALL products from the inventory, giving you a unique chance to save big on new cool web designs in the beginning of the year." –
David Braun, CEO at TemplateMonster.
About TemplateMonster.com
TemplateMonster is one of the world's leading manufacturers of ready-made websites templates of any complexity. As of today, the number of products in the company's catalog of templates, and ready-made websites has exceeded 26,000 units. The company's templates work with all popular engines including WordPress, Joomla, Drupal and many others. Their customers receive ongoing 24/7 support and maintenance from personal managers. For more information, please visit our website.
Source:
https://www.templatemonster.com/press/new-year-of-greatest-achievements-starts-with-templatemonster-get-any-product-30-off/