Swiss America Releases the 2017 Gold Report: Early Edition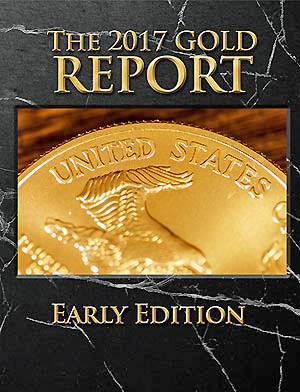 January 24, 2017 - Phoenix, Arizona – Swiss America Trading Corporation, a Phoenix based precious metals firm that specializes in wealth protection, has just released the 2017 Gold Report: Early Edition.
We have just witnessed a sea change in American politics and the
2017 Gold Report: Early Edition
explores many of the dramatic political and economic policies currently in play and their potential impact on your money. With a new president, a new administration, and a Republican Party with historic legislative majorities, lawmakers could transform domestic, foreign and fiscal policy.
The election of Donald Trump represents a dramatic shift in the methods and mechanisms that have fueled the economy for the last decade and as with any change there is both risk and potential volatility. Will President Trump overhaul the Fed? Will his proposed infrastructure spending add to our already unsustainable sovereign debt? Will inflation rise? Will the dollar weaken? What will the markets do?
"The US election was a major realignment of both politics and policy which naturally breeds a degree of uncertainty," says Dean Heskin, CEO of Swiss America. "If we add the instability in Europe, China and India to the mix, we have a scenario where it makes sense to diversify and consider both an inflation hedge and some reallocation into a solid safe haven like gold."
The 2017 Gold Report: Early Edition
delves into the potential shake up in international trade. From TPP, NAFTA, and China imports – the report examines Trump's protectionist policies and their impact on global commerce. Will the new President keep his promise to bring back millions of jobs or will his policies trigger unintended consequences and an escalating trade war that could actually result in job loss and an economic contraction?
There's no doubt that the world is witnessing rising pro-Brexit, Euro-sceptic, and anti-establishment sentiment. With upcoming elections in France, Germany and the Netherlands, populist candidates are gaining ground leaving some wondering whether the European Union will survive.
With America and Europe at political crossroads, China is facing a decisive year for its own economy. Beijing is in a deepening debt crisis and while it cannot afford a trade war with the West, it has vowed to 'strike back' against any new tariffs imposed by the new U.S. administration. Likewise, India is struggling to recover from its self-imposed 'war on cash' that has brought its economy to its knees. How will both countries fare in 2017 and what does it all mean for the U. S. consumer?
The 2017 Gold Report is a complimentary publication of Swiss America Trading Corporation and is part of the company's ongoing commitment to help investors make informed decisions to keep their money safe in a dramatically changing and volatile world.
The report is available via electronic download at
https://www.swissamerica.com/offer/2016GR.php
or by calling Swiss America directly at: 1-800-289-2646.
Swiss America Trading Corporation
was founded in 1982 by Chairman Craig R. Smith and has grown into one of the largest and most respected asset protection firms in the industry and one dedicated to helping consumers navigate the dynamic trends that impact their savings and retirement accounts in an ever changing world.
Email Outsource Marketing Group, Inc.