AFuzion Launches New DO-178C & DO-254 SOI Optimization Services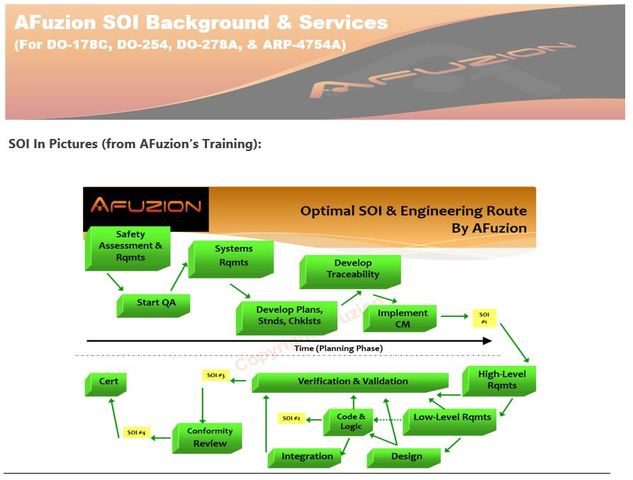 January 31, 2017 - AFuzion Inc. has formalized it's DO-178C SOI and DO-254 SOI optimization services so all worldwide clients can benefit from AFuzion's DO-178C optimization and DO-254 optimization for Stage of Involvement audits. Now, AFuzion's new DO-178C SOI & DO-254 SOI services are available to all clients worldwide. What are SOI's, SOI Best Practices, and how to optimize DO-178C SOI's? Details below.
DO-178C SOI & DO-254 SOI OVERVIEW
- Aviation system development typically requires Stage Of Involvement (SOI) activities which comprise formal audits of:1) Plans (
SOI-1
), 2) Implementation (
SOI-2
), 3) V&V (
SOI-3
), and 4) Conformity (
SOI-4
). Each of these four SOI "reviews" actually comprise sequentially "audits" where progress is monitored throughout development. But what does each DO-178C SOI really comprise and are they required? Does avionics hardware require DO-254 SOI's? How can avionics developers perform DO-178C optiimization with improved SOI's? These questions are addressed below and within AFuzions' new DO-178C & DO-254 SOI optimization services and DO-178C Best Practices.(including SOI's) whitepaper available for free download from AFuzion.
Originally, DO-178 (the predecessor to DO-178C, DO-254, DO-278, ARP-4754) based development did not require or even have SOI's. A problem arose because of divergence between different development organizations and even projects versus what certification authorities expected. In keeping with the continual evolution of aviation certification and oversight, SOI's were informally added and became a defacto "standard" applied to most projects. Remember, the four SOI's are:
1. Plans (SOI #1)
2. Implementation (SOI #2)
3. V&V (SOI #3)
4. Conformity (SOI #4)
Required SOI attendance can actually be quite limited: only the project's Quality Assurance (QA) representative and Certification Authority representative must attend. In reality, multiple additional personnel attend including key members from the project's Safety, Systems, Software/Hardware and Management teams. Similar to military aviation's SSR/PDR/CDR/TRR meetings, the SOI's commonly have multiple attendees to ensure depth of knowledge (and shared responsibility).
Today, there is a movement afoot which lessens the usage of SOI's for many reasons: availability of cert authority personnel and potential subjectivity of applied SOI criteria are two oft-cited reasons. However, many projects believe in and rely upon effective SOI's to ensure regulatory compliance and prevent mistakes instead of relying upon fixing mistakes after-the-fact.
Like building a commercial building or even a house, governments require advance Plans then reviews of those Plans, followed by in-process building inspections and then a final audit of the building for compliance and habitability. Aviation systems are more complex than buildings so the aviation SOI protocol is even more important. Remember: SOI #1 assesses the Plans and Standards versus regulatory standards and guidelines. SOI #2 assesses project-specific implementation against those approved Plans, Standards, and Guidelines. SOI #3 assesses verification and validation of that implementation. SOI #4 assesses the key final process completion including conformance of: traceability, configuration management and problem report disposition, build/manufacturing processes and artifact integrity. (For more details on optimizing DO-178C and DO-178C SOI's, download (free) here:
Free Whitepaper DO-178C Best Practices Download Here
COMMON DO-178C SOI MISTAKES & DO-254 SOI Mistakes
If an aviation product developer has great experience, perfect execution, and perfect luck, the SOI's are a mere and easy formality. However, in real-life, all projects have varying risks which are mitigated by thorough SOI planning and execution. The following are common SOI mistakes which AFuzion's engineering auditors have observed on 200+ aviation projects the past twenty years:
1.Weak Plans/Standards Templates - procure from reliable source
2. Insufficient Cert Authority involvement & approvals
3. Missing Quality Assurance Transition Criteria evidence
4. Missing "proof" of review/conformance: use quality checklists
5. Actual engineering process mismatch to approved Plans
6. (Many more potential SOI Mistakes; see AFuzion's DO-178C Training here which includes DO-178C SOI Info: Free DO-178C Training and DO-254 Training Info Download Here)
AFuzion's DO-178C optimization and DO-254 optimization for SOI's include the following:
World-class aviation Templates for Plans, Standards, & Checklists</li>
Professional senior engineering reviews of all engineering artifacts including plans, standards, Safety, Requirments, Design, Code, & Tests</li>
Mock SOI Practice & Audits for risk reduction: getting it right</li>
Formal SOI Participation & Leadership</li>
SOI Follow-up and defect mitigation / correction</li>
Onsite customized training in all the above.</li>
For a fun 1-minute video on AFuzion, see here:
(AFuzion One-Minute Video)