New Thomas Jefferson School of Law Alumni Association Board Sworn-In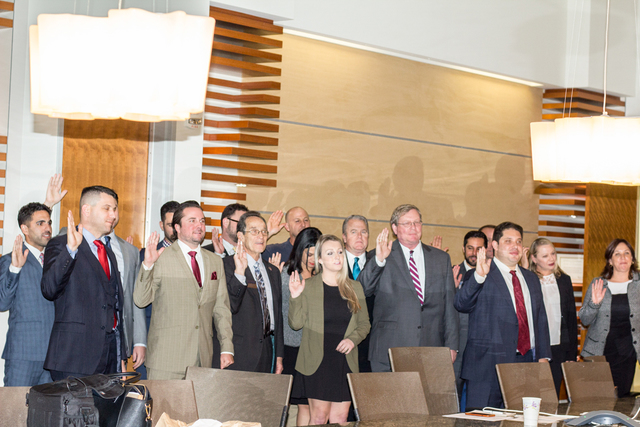 SAN DIEGO, CA, 2/8/17 –The new Thomas Jefferson School of Law Alumni Association Board was sworn-in by Dean Thomas Guernsey on Wednesday evening, February 1st. The new president is Sabrina Green '02 with Brian Findley '07 and Amanda Thompson '07 serving as vice-presidents. (See the roster below)
Sabrina Green is a managing partner and owner of the San Diego firm Stratton & Green, ALC. Ms. Green earned her Bachelor of Arts in Political Science from California State University, Chico, and earned her Juris Doctor from Thomas Jefferson School of Law in 2002. Ms. Green represents clients in the areas of oil and gas, general civil, business and employment litigation and regularly represents her clients in litigation before state and federal courts, and governmental agencies. Ms. Green advises businesses on strategic and preventative measures and regularly presents seminars to companies regarding various state mandated employment related topics. Ms. Green serves as the Attorney Coordinator for the Thomas Jefferson School of Law Employee Rights Clinic and serves on numerous boards and committees for both business and philanthropic purposes including: Hong Kong Business Association of Southern California, Walden Family Services, Executive Women's Counsel- University Club and JUMA.
Ms. Green became involved with the Thomas Jefferson School of Law Alumni Board of Directors in 2008, previously served as president for the 2009 and 2010 terms and remains active today as chair of the Padres Game & Tailgate and Annual Alumni & Friends Golf Tournament committees.
In a statement, new Alumni President Sabrina Green said:
"This year is proving to be a time of change both for the country in which we live, and to our law school, the current students and its alumni. This year will see the departure of Dean Guernsey and a new Dean to take over the reins and direction of Thomas Jefferson School of Law. In the past two years under former President Jeremy Evans, the Alumni Association made great strides in its outreach to Thomas Jefferson School of Law's alumni community. I am very excited to continue the expansive growth of the Thomas Jefferson School of Law Alumni Association and its outreach to current and former students in association with the school. In addition to the quality, free MCLE programs, our monthly mixers, charity golf tournament and Padre outing, I and the Alumni Board, look forward to rolling out new events throughout this year to further foster and support our growing alumni community. The Alumni Board's mission is to serve Thomas Jefferson School of Law Alumni and I invite any alumni who have ideas or want to support our mission to get involved. We look forward to seeing you at this year's events."
Congratulations to the new board!
2017 Thomas Jefferson School of Law Alumni Association Board of Directors Roster
Executive Committee:
President Sabrina Green '02
Vice Presidents Brian Findley '07 and Amanda Thompson '07
Treasurer Michael Weiner '09
Secretary Milena Celentano '12
Immediate Past President Jeremy Evans '11
Directors at Large:
Mona Mahdara Alcala '10 (Los Angeles County, California), Bradley Beauchamp '02 (Arizona), Eric Bernsen '12, Joshua Bonnici '10, Loren Casuto '09, Jeremy Elias '14, Jeremy Evans '11, David Gibbs '12, Camille Guerra '04, Aaron Hicks '04 (Orange County, California), Shawn Huston '03, Michael Huynh '11, Adam Jaffe '06, Pejman D. Kharrazian '11, L. Tracee Lorens '90, David Majchrzak '02, Raj Matani '11, Daniel Mazzella '81, Jennifer McCollough '13 (Washington, D.C.), Jonathan Preston '96, Ingrid Rainey '09, Kimberly Reisman '04, Ronald Rockwell '85, Angelica Sciencio '08, Philip A. Shapiro '85, Kristen Spees '11 (Nevada), John Stump '89, Erik Vieira '02 (San Francisco County, California), John Ray Warner '99 (Riverside County, California) and Sterling Williams '11
The mission of Thomas Jefferson School of Law is to provide an outstanding legal education for a nationally-based, diverse student body in a collegial and supportive environment with attention to newly emerging areas of law, particularly those related to technological development, globalization and the quest for social justice. Located in Downtown San Diego, Thomas Jefferson School of Law has evolved into an innovative, cutting-edge law school, devoted to the individual needs and success of its students. More information is available at
www.tjsl.edu
.
—- END —-
CONTACT: Thomas Jefferson School of Law Director of Marketing and Communications Edgar Hopida, 619-961-4314 or 619-913-0719,
ehopida@tjsl.edu
Email Thomas Jefferson School of Law