Shop Insurance Canada Announces its Membership with the Vaughan Chamber of Commerce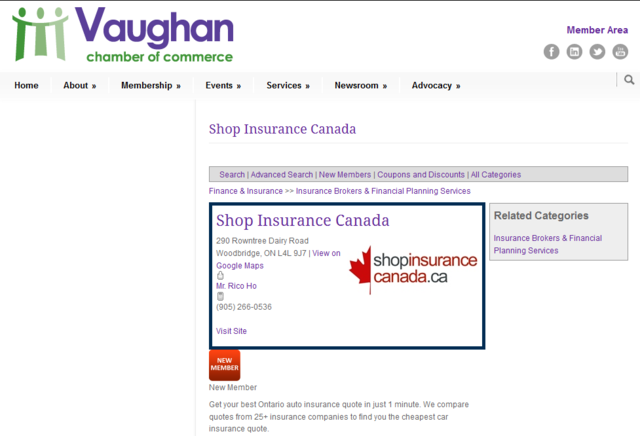 February 11, 2017 - Members of the
Vaughan Chamber of Commerce
come under the umbrella of its three foundational pillars, which all aim to help businesses in the city. Businesses work with the Chamber to manage local business issues and create new policies. This is achieved by collaboration with politicians and authorities within the city.
The Chamber builds a strong business community and offer benefits to customers.
Shop Insurance Canada
has enjoyed growth through the last year and is among the leading Canadian websites for comparing auto insurance quotes online.
As an authority on car and home insurance, Shop Insurance Canada is looking forward to working with the Chamber of Commerce to continue to promote the business community in Vaughan.
About the Vaughan Chamber of Commerce
The Vaughan Chamber of Commerce (VCC) was established in 1977 to promote and advocate the interests of businesses in the City of Vaughan. Since its' establishment the Chamber has been an integral part of the business community. The VCC is a member based not-for-profit organization dedicated to connecting, serving and empowering the Vaughan business community both as a catalyst and resource. The Chamber provides numerous services to attract businesses including educational seminars, major events, member benefits, and represents business as an advocate at all levels of government on current issues and economic inclusion.
About Shop Insurance Canada
Shop Insurance Canada is a Toronto based company that specializes in delivering the best auto insurance products to customers around Ontario and Canada. The online quoting tool uses an engine that is easy to use and accurate enough to deliver the best auto insurance quotes from over 25 of Canada's leading providers. Shop Insurance Canada also offers expert advice on the auto insurance industry, as well as guides and news to help customers find the best deal possible.
Shop Insurance Canada works hard to bring all the latest insurance news to customers. We believe that understanding the industry starts with knowing what is happening day to day. Our customers and readers are hugely important to us, and we want them to get the best deals by being involved in the industry. If you have any interesting insurance topics or stories, let us know and we will be happy to consider it and write it up.
Perhaps you have a funny story about your premium evaluations, or maybe a genuine worry about the state of insurance in Canada. Shop Insurance Canada wants your voice and story to be heard, so get in touch with us via our official
contact page
.
Shop Insurance Canada
290 Rowntree Dairy Road
Woodbridge, Ontario
L4L 9J7
Canada
(905)266-0536
info@shopinsurancecanada.ca
Email Shop Insurance Canada