TemplateMonster Now Available in Swedish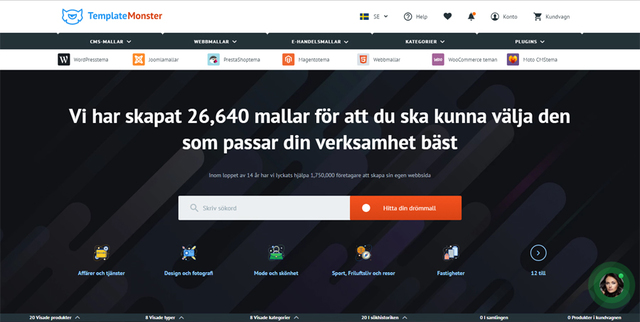 March, 25, 2017. Ft. Lauderdale, FL.
TemplateMonster
expands its reach with a launch of a Swedish version of the site. From now on, TemplateMonster site is available in 15 languages: English, Spanish, Russian, German, Polish, Italian, Turkish, French, Brazilian, Dutch, Chinese, Czech, Ukrainian, Hungarian, and Swedish.
Swedish customers can now browse the site's inventory freely. The descriptions of features added to all of 26,000+ themes from the gallery are also translated. Whenever a Swedish customer needs assistance on the selection of the proper template for a future project or has some kind of questions regarding their installation and customization, they can refer to the
Help page
and customer care support.
The Swedish version of the site doesn't lag behind the English or any different localized version. The customers will be notified about all promo campaigns and special deals. In the nearest future, we will also launch a Swedish version of MonsterPost, so that everyone will be able to read the latest industry news and keep a close eye on the reviews of the latest TemplateMonster releases.
"It's no secret that clients from all over the world buy themes from TemplateMonster. We highly appreciate and value the choice of each and every customer. That is why we are constantly working on improving our services and making a client's online experience more enjoyable and hassle-free. The launch of a Swedish version is one of the most anticipated events of this season. We want to make it convenient for the users from any location in the world to choose themes on our site. So, the Swedish version of TemplateMonster.com is not the last on the list, with more releases scheduled to be launched soon."-
James Berg, CMO at TemplateMonster
.
About TemplateMonster.com
TemplateMonster is one of the world's leading manufacturers of ready-made websites templates of any complexity. As of today, the number of products in the company's catalog of templates, and ready-made websites has exceeded 26,000 units. The company's templates work with all popular engines including WordPress, Joomla, Drupal and many others. Their customers receive ongoing 24/7 support and maintenance from personal managers. For more information, please visit our website!
Source:
https://www.templatemonster.com/press/templatemonster-now-available-in-swedish/