Waste360 Announces the Next Generation of Leaders in Waste and Recycling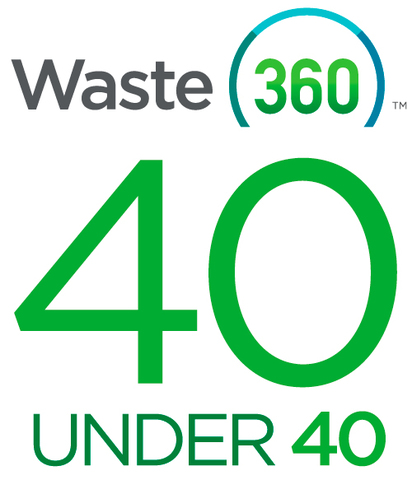 Second Annual 40 Under 40 List Announced; Winners will be Celebrated at WasteExpo in May in New Orleans
New York, March 7, 2017 –
Waste360
, the leading information, event, commerce and education provider to the solid waste, recycling, organics and sustainable communities, today announced their
second annual 40 Under 40 awards list
. This list showcases the next generation of leaders who are shaping the future of the waste and recycling industry.
"We're delighted that the 2017 class is once again the top of their respective crafts. From technology and innovation to grassroots growth and vast professional achievement, these 40 young professionals give the entire waste, recycling and organics industry a great deal to be proud of. The future is bright thanks to the thinking and hard work of these rising stars. We look forward to celebrating them at WasteExpo in May," said Mark Hickey, VP & Market Leader, Waste360.
The Waste360 40 Under 40 awards program recognizes inspiring and innovative professionals under the age of 40 whose work in waste, recycling and organics has made a significant contribution to the industry. The winners are involved in many different aspects including hauling, composting, policymaking, sustainability, and municipal initiatives.
The 2017 40 Under 40 award winners (in alphabetical order by company) include:
Peter Kombouras, Managing Director, Alkemy Environmental
Spence Davenport, Process Improvement Manager, Athens Services
Ranjith Annepu, Co-Founder, be Waste Wise
John Fenn, Co-Founder, Budget Dumpster
Michael Casella, Market Area Manager, Casella Waste Systems
Kellie Kish, Recycling Coordinator, City of Minneapolis Division of Solid Waste and Recycling
Jim McKay, General Manager, Solid Waste Management Services, City of Toronto
Jason Gates, CEO and co-Founder, Compology
Mayra Cordero, Environmental Specialist, El Paso Community College
Richard Schofield, Project Development Manager, Enerkem
Geoff Aardsma, Vice President of Client Services, Enevo
Nate Davis, Director, ESG Parts, Environmental Solutions Group
Nicholas Yafrate, Senior Engineer, Geosyntec Consultants
Patrick Dovigi, Founder, President and CEO, Green For Life Environmental
Mike Classen, Solid Waste Project Engineer, HDR
Josh Cohen, Founder & CEO, The Junkluggers
Ross Fields, Risk Management Professional, The Leavitt Group
David Marcouiller, Executive Vice President Sales Engineering, Machinex Industries
Holley Sides, Director of Business Operations & Systems, Meridian Waste Solutions
Jenny English, Account Executive, ReCollect Systems
Gregory Lettieri, CEO, Recycle Track Systems
Sarah Vared, Interim Director, ReFED and Principal, MissionPoint Partners LLC
Mark Armen, Founder, Replenysh
Cody Humphrey, Operations Manager, Republic Services
Beth Coddington, Consultant, Resource Recycling Systems
Fern Gookin, Director of Sustainability, Revolution Recovery
James Contreras, Jr., Manager, RJ Waste & Recovery
Mitch Davis, Waste & Recycling Permits Coordinator, Salt Lake City Waste & Recycling Division
Josh Bray, President, Sanitation Solutions
Solavann Sim, Regional Manager, SCS Engineers
Adam Winfield, Founder & President, Simple Recycling
Kevin Atkinson, Owner, Texas Pride Disposal
Martin Mattson, Director of Key Accounts Waste & Recycling, Volvo Construction Equipment NA
Ted Habets, General Manager, Waste Industries
Amanda Fairley, Sustainability Manager, Waste Management
Dulymus (Deuce) McAllister, President, Waste Pro of Louisiana, Waste Pro USA
Colleen Foster, Senior Management Analyst, Solid Waste and Recycling, Water Utilities Department, City of Oceanside, Calif.
Matt Spencer, Vice President of Operations, WCA Waste Corp.
David Dominguez, Fleet Director, WCA Waste Corp.
Pranav Jampani, Director of Sustainability, The Venetian, The Palazzo and Sands Expo
To read the complete story on Waste360, visit:
http://www.waste360.com/waste360-40-under-40
A panel of expert judges from Waste360 evaluated the nominations and consulted with an external advisor to select the finalists and winners.
The 40 Under 40 awards list is sponsored by
CP Group
.
The winners will be honored during an awards ceremony at
WasteExpo
, North America's largest solid waste, recycling and organics industry event, May 8-11, 2017, in New Orleans. WasteExpo brings together the crème de the crème of the industry, gathering key buyers and decision makers-making it the ideal place for Waste360 to recognize these rising stars.
For more information and to register to attend, please visit
WasteExpo.com
.
For more information on WasteExpo, please visit WasteExpo.com or follow WasteExpo on Twitter at @Waste_Expo.
About Waste360 Group


Waste360 Group harnesses the power of its many properties to serve the solid waste and recycling industry. The industry widely consumes this content in the form of websites, live events, online learning and digital opportunities and more. The Waste360 Group includes: Waste360.com, WasteExpo, the Global Waste Management Symposium, the Healthcare Waste Conference, and topical and timely e-newsletters. For more information, visit
www.waste360.com.
About Informa
Waste360 and WasteExpo are part of Informa, the international business intelligence, academic publishing, knowledge and events group. Informa serves commercial, professional and academic communities, helping them connect and learn, and creating and providing access to content and intelligence that helps people and businesses work smarter and make better decisions faster.
Informa has over 7,500 colleagues in more than 20 countries and a presence in all major geographies. It is listed on the London Stock Exchange and is a member of the FTSE 100.