International Wireless Communications Expo Unveils the First Annual IWCE Young Professionals Awards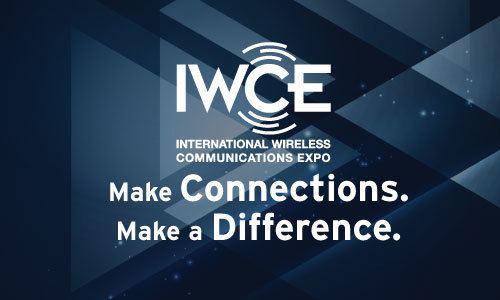 Showcases the Next-Generation of Leaders in the Communications Technology Industry
ATLANTA, March 15, 2017 –
International Wireless Communications Expo (IWCE)
, the premier annual event for communications technology professionals, today officially announced the first annual
IWCE Young Professional Award
winners. The award showcases the next-generation of leaders in the communications technology industry who are shaping the future of the industry.
"We are passionate about the communications technology industry and we believe our list of winners will make a significant mark on our industry," said Stephanie McCall, Show Director, IWCE. "We congratulate all of the professionals we've recognized, and we look forward to watching them chart the course for the industry in the years to come."
IWCE's Young Professional Awards recognize young professionals under 35 who have made a significant contribution in his or her company or agency and works in the communications technology industry. These individuals are executing some of the most innovative ideas, showing creativity and initiative.
The 2017 IWCE Young Professional Award winners include:
Brandon Abley, Consultant, Televate
Edgardo Barreto, EOC Business Specialist, CODECOM
Gabe Brown, Software Engineer, Avtec, Inc.
Mark Dabrowski, Director of R&D, Teldio
Vikas Dhummi, Senior Mechanical Engineer, Marvair, division of Airxcel, Inc.
Bob Drayer, Lead Software Developer, Avtec, Inc.
Amanda Dundas, Consultant/Project Co-ordinator, DundasTech Ltd
Nick Falgiatore, Technology Specialist, Mission Critical Partners
Nathan Hooks, Senior Customer Support Engineer, Avtec Inc.
Ayrielle LeGrande, Vice President of Public Safety Solutions, The Digital Decision
Jason Matthews, Emergency Management Bureau Sergeant , Lake County Sheriff's Office
Michael Mayes, IT Manager, Network Engineer, Advantage Communications
Jorge Perdomo, Founder, goTenna
Luis Perez, Head of Hytera Perú and Key Account Manager LATAM, Hytera Mobilfunk GmbH
Roger Wespe, National Public Safety Strategy and Technology Manager, Sonim Technologies
Winners will be recognized at a special ceremony on March 30 at 9:45 a.m. in the Keynote Area. IWCE takes place March 27-31, 2017 at the Las Vegas Convention Center.
For additional information on IWCE and to sign up for email updates, visit
iwceexpo.com
. Stay connected with @iwceexpo on Twitter and Facebook and be sure to follow our LinkedIn company page.
Media interested in obtaining media credentials, contact Nadira Ramatally at
nadira.ramatally@penton.com
.
ABOUT THE INTERNATIONAL WIRELESS COMMUNICATIONS EXPO (IWCE)
Since 1977, the International Wireless Communications Expo (IWCE) has been the premier annual event for communications technology professionals. IWCE features over 400 exhibitors showcasing the latest products and trends in the industry. Individuals attend from a diverse group of industry professionals including government/military, public safety, utility, transportation and business enterprise. IWCE 2017 will be held March 27-31, 2017 at the Las Vegas Convention Center in Las Vegas, NV. For more information, visit
www.iwceexpo.com
.
About Informa
IWCE is part of Informa, the international business intelligence, academic publishing, knowledge and events group. Informa serves commercial, professional and academic communities, helping them connect and learn, and creating and providing access to content and intelligence that helps people and businesses work smarter and make better decisions faster.
Informa has over 7,500 colleagues in more than 20 countries and a presence in all major geographies. It is listed on the London Stock Exchange and is a member of the FTSE 100.
###