Thomas Jefferson School of Law Students Achieve Victories, Awards and Praise in the Jessup International Moot Court Competition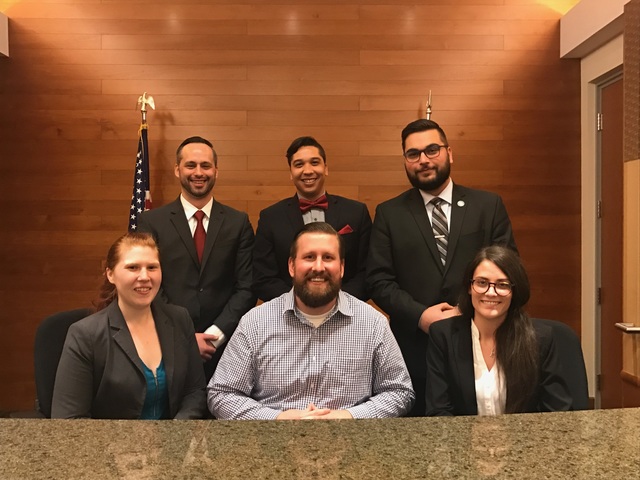 SAN DIEGO, CA, 3/17/17 – Last month, Thomas Jefferson School of Law students participated in the 58th annual Phillip C. Jessup International Law Moot Court Competition, Pacific regional in Portland, Oregon.
The Jessup Competition is the world's largest moot court competition and is widely considered to be the most difficult. Teams from over 550 law schools in more than 80 countries participate, submitting briefs and arguing complex issues of international law in a dispute between two fictional countries before the International Court of Justice. Representing Thomas Jefferson School of Law in this year's competition were Andrei-Vladimir Dumitrescu (3L), Jason Garchie (3L), Kally Mullett (3L), Kelsey Kuberka (3L) and Travis Strachota (3L), together with adjunct professor and former Jessup competitor Jesse Allen.
The applicant team of Andrei-Vladimir Dumitrescu and Kally Mullett achieved victories in the oral argument rounds of the competition against Yale Law School and Gonzaga University School of Law. The Respondent team of Kay Kuberka and Travis Strachota won the oral argument round against University of Montana School of Law. Competitor Andrei-Vladimir Dumitrescu brought home an eighth place oral advocate award; an outstanding accomplishment considering that 90 law students from schools across the country competed in the Pacific Regional rounds. After multiple days of arguments on complex issues of international law, the team narrowly missed the cut for advancement to the international rounds in Washington D.C.
"Each year the Jessup competition deals with complex, highly relevant issues in the international legal realm, and presents our student competitors with a challenge unlike any other in law school," said team advisor and Thomas Jefferson School of Law Adjunct Professor Jesse Allen.
The issues presented this year included the entitlement to compensation for receiving refugees, the seizure of cultural property, damage to a World Heritage Site and the allocation of a shared water resource.
"This year our competitors rose to the challenge and were extraordinary representatives of Thomas Jefferson School of Law," Professor Allen said.
"Out of all the competitions I've done, nothing compares to Jessup. I'm proud to have represented Thomas Jefferson School of Law at this prestigious competition and I look forward to seeing next year's team do even better," said Andrei-Vladimir Dumitrescu.
"The complexity of the international legal issues involved and the talent of our competition this year made Jessup a challenging but extremely rewarding experience. One I'd recommend to anyone who thrives on competition and has an interest in international law. Jessup was by far the most enjoyable and worthwhile experience I've had in law school," said Jason Garchie.
"To those interested in international law, appellate advocacy and stepping up to a challenge- the Jessup Competition is for you. It is the most difficult thing I have done in law school but all of the blood, sweat and tears were worth it. When you step up to the podium, it does not matter where you come from or which school you go to," said Kally Mullett.
The Jessup Competition takes place over a period of more than six months, beginning with the release of the problem in September. Students participate in a two-unit course during the Fall Semester to assist with the rigorous preparation.
After diligently researching and writing extensive briefs on both sides of the issues presented, Thomas Jefferson School of Law's competitors began regular practice for the oral rounds, culminating in four 90-minute oral arguments before panels of critical international law judges, simulating the International Court of Justice.
Following each round of competition, each of the Thomas Jefferson School of Law competitors received praise from the judges on their thorough preparation, knowledge of the law and oral advocacy skills.
For those interested in competing in next year's Jessup International Law Competition, contact the Thomas Jefferson School of Law Moot Court Honor Society at
Mootcourt@tjsl.edu
or Professor Jesse Allen at
Allenja@tjsl.edu
.
The mission of Thomas Jefferson School of Law is to provide an outstanding legal education for a nationally-based, diverse student body in a collegial and supportive environment with attention to newly emerging areas of law, particularly those related to technological development, globalization and the quest for social justice. Located in Downtown San Diego, Thomas Jefferson School of Law has evolved into an innovative, cutting-edge law school, devoted to the individual needs and success of its students. More information is available at
www.tjsl.edu.
—- END —-
CONTACT: Thomas Jefferson School of Law Director of Marketing and Communications Edgar Hopida, 619-961-4314 or 619-913-0719,
ehopida@tjsl.edu
Email Thomas Jefferson School of Law