Fusion Stone Has Over 1500 Dealers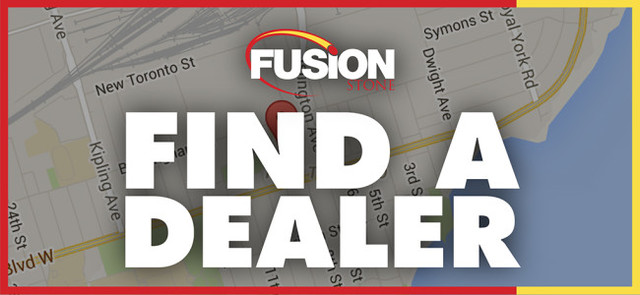 March 30, 2017 - Fusion Stone says it has more than
it has lots of options. 1,500 Fusion Stone dealers across Canada
and it has lots of options. The company says if you have decided that Fusion Stone is the right material for your next DIY project, here is where you need to go to choose and order your stone.
What you need do is enter your postal code in their Dealer Locator to find a dealer close to you or use the Fusion Stone app to find a dealer using your mobile device. Or, if you cannot connect to the internet call Fusion Stone at 1-800-265-3174 and they will help you find a dealer nearby.
The company outlined the benefits of visiting a Fusion Stone dealer.
According to a statement on their website, "We've made sure that you have the product guides, instructions, how-to-videos and advice available online so that working with Fusion Stone is simple and intuitive while you're in the midst of a project."
Fusion Stone also says when you visit a Fusion Stone Dealer to buy your stones you can also:
Touch, feel and see their stone varieties, colors and accessories to help you make a choice
Get quick, in-person answers to any questions you have about Fusion Stone
Confirm that you have the right materials for your project
Get inspiration and creative project ideas for your current project and other home upgrades
Get an exact quote for the total cost of your project.
About Fusion Stone Dealers
The company says they work with lumber, local building supply, hardware and stone retailers as well as large chain stores like Home Hardware, Lowes, Rona, and Home Depot to ensure you can access their high quality Fusion Stone products at affordable prices. They went on say that whether you visit a chain like Home Depot, or your local hardware store, you'll find that their Fusion Stone dealers are knowledgeable and experienced.
Fusion Stone outlined the following questions you can ask their dealers
Don't want to install Fusion Stone yourself?
Ask your Fusion Stone dealer to recommend reliable, local installation contractors who can help you get the job done quickly and on budget.
Want to see what Fusion Stone looks like on a completed project?
Ask your Fusion Stone dealer about local businesses that have used Fusion Stone so you can go and see for yourself what a completed exterior or interior project looks like.
Looking for detailed answers?
Ask your Fusion Stone dealer questions about Fusion Stone's lifetime warranty
Get information about local building code requirements
Ask about how Fusion Stone compares to other products
Find out why Fusion Stone is an environmentally sustainable building material.
Check out Fusion Stone Dealer Locator to find the store nearest to you that offers Fusion Stone products.
FUSION STONE
281226 Shouldice Block Road
Shallow Lake, Ontario
N0H 2K0 CANADA
Telephone: (519) 935-2771 ext.224 or (800) 265-3174
Email:
fusion@shouldice.ca