Enhanced Voice Effects for Voice Changer Software Diamond 9.5 boosts creativity of April Fools' jokes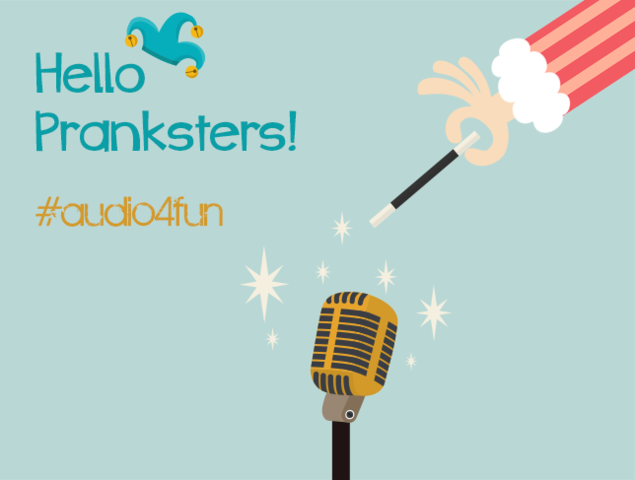 April 1st, the day of practical jokes and hoaxes is coming near. Audio4fun welcomes all pranksters to join the day not only for fun, but also for maximum memorable satisfaction with the newly improved Voice Effects feature of
AV Voice Changer Software Diamond 9.5
. This feature is now better than ever with innovative updates on design and functions, promising to carry all pranks to success. More information can be found at
https://www.audio4fun.com/voice-changer.htm
AV Voice Changer Software Diamond is the ultimate voice mastering tool specializing in voice morphing tasks, with an impressive library of effects to choose from. Recently, the latest version 9.5 of Voice Changer Software Diamond introduced an overall change to the Voice Effects feature, turning it into a more intuitive and effortlessly controlled module, which helps users make full use of it for the best combination of results with minimum effort. First, this feature is now displayed at the right of the main interface. When an effect is selected, its name will be listed there. At a glance, users will easily recognize what effects are active by their blue color, while the inactive ones are grey. Second, users are able to quickly turn each of these effects on and off, or even remove them from the list at will in just one click, making it very convenient when switching back and forth. For those reasons, it is significantly more efficient to manage more than 30 Voice Effects, 70 Background Effects, 17 Non-human Voices, and 40 plug-in Audio Effects.
"With better control over countless combinations of effects, the new Voice Effects feature has the ability to help anyone succeed this April Fools' Day by successfully creating an army of pranks for their intended "victims." For example, it is possible to change your voice to a number of different voices and apply various effects to even convince your mom that you have a blue cow as a pet in your room, so why not try a few different tricks of your own, and make it your funniest day ever," said Chris R.F., Head of Quality Administration.
Besides the great changes in Voice Effects, AV Voice Changer Software Diamond 9.5 also features a completely new look, a fresh 2-dimensional Voice Morpher graph, and an advanced File Morpher. The new elegant flat skin is friendlier, and provides simpler navigation across all of the functions, while the Voice Morpher graph gives users more precise control over both the age and the gender of their voice. Even better, File Morpher which helps in processing a batch of pre-recorded audio files is now available in two modes: Full and Quick Mode for the different needs of users. All of these features can be smoothly combined with Voice Effects to reach a higher level of funny in making creative pranks.
"Just like the Storks ensure that babies are delivered to the world safe and sound,
Audio4fun
will carry all users to a whole new level of fun and potential prank ideas, full of creativity just waiting to be explored," Chris added. For this reason, to help all users enjoy the upcoming April Fools' Day and complete its mission as a Digital Stork, Audio4fun is having a huge 30% OFF sale on the whole Voice Changer Software series. All readers can visit
https://www.audio4fun.com/promotion.htm
for more in-depth specifications.