Next-Generation Net Promoter® Dethrones Heritage NPS® to Become Industry Standard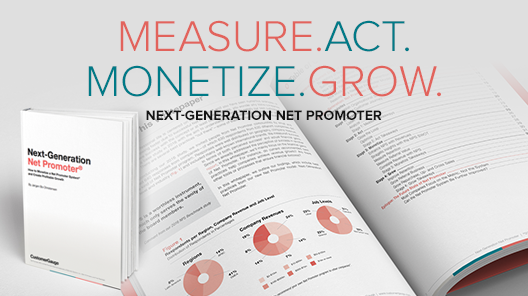 March 31, 2017 - In 2003, Frederick F. Reichheld introduced the Net Promoter Score in his article "The One Number You Need to Grow" in Harvard Business Review's December issue. Since then, thousands of companies have taken the steps toward turning customer loyalty into a competitive advantage.
Over the years, numerous initiatives have been taken to expand on Reichheld's original NPS narrative. In 2008, the Net Promoter Operating Model (also referred to as "heritage NPS") was introduced in "Answering the Ultimate Question". Now, in 2017, Jørgen Bo Christensen of CustomerGauge has revealed the next advancement in NPS:
Next-Generation Net Promoter
.
Next-Generation Net Promoter breaks the NPS journey down into four steps: Measure, Act, Monetize and Grow. This new model expands on heritage NPS to optimize the process of measuring and acting on customer feedback, while also focusing on the KPI that matters most: a company's bottom line.
Unveiled in his most recent white paper,
Next-Generation Net Promoter®: How to Monetize a Net Promoter System® and Create Profitable Growth
, this revolutionary new model will drive the modern NPS industry as we know it, showing that NPS is more than just a loyalty metric, but ultimately a compass for growth.
If you'd like to learn more about Next-Generation Net Promoter, check out the full white paper at
http://content.customergauge.com/next-generation-net-promoter
. To schedule an interview with the author, contact Sarah Frazier at 401-782-5480/
sarah.frazier@customergauge.com
.