Family ReEntry Joins Panel Discussion of 13th, Prison Slavery Documentary Film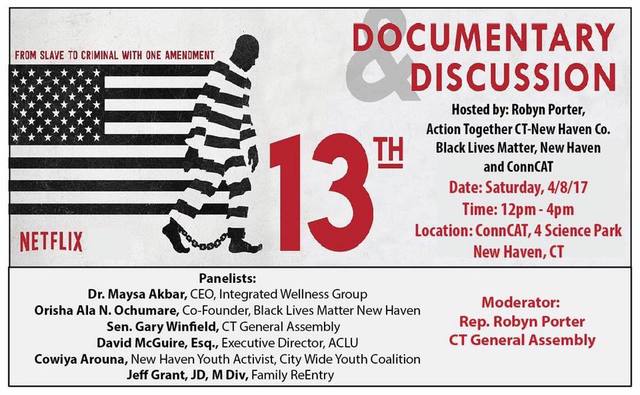 April 8, 2017 - Family ReEntry, the nonprofit organization supporting families affected by the criminal justice system, will join Saturday's
Action Together New Haven
's panel discussion that will follow the movie screening of
13th
, a 2016 American documentary by director
Ava DuVernay
, that explores prison slavery, the intersection of race, justice and mass incarceration in the United States
The movie showing and panel discussion, which is open to the public, will be held at ConnCAT,
4 Science Park in New Haven
on Saturday, April 8 from 12 - 4pm.
The Action Together New Haven discussion will be moderated by Sen. Robyn Porter of the CT General Assembly, and the panel includes Dr. Maysa Akbar, CEO, Integrated Wellness Group; Orisha Ala N. Ochumare, Co-Founder, Black Lives Matter New Haven; Sen. Gary Winfield, CT General Assembly; David McGuire, Esq., Executive Director, ACLU; Cowiya Arouna, New Haven Youth Activist, City Wide Youth Coalition.
"We are honored to be invited by Action Together New Haven to participate in the discussion about issues highlighted in one of the most important criminal justice related movies of our time," stated Jeff Grant, Family ReEntry's Executive Director. Grant speaks about criminal justice with some authority and experience; he is a formerly incarcerated person having served almost 14 months in a Federal prison for a white-collar crime he committed in 2001 when he was a lawyer.
According to Family ReEntry Director of Community Affairs Fred Hodges, also formerly incarcerated, the 13th movie and panel "…is another outreach opportunity that Family ReEntry has been able to employ in reaching its message of public services to the community."
The movie discussion this weekend precedes Family ReEntry's Spring Benefit Concert, headlined by
Blue Coupe
, the band formed from members of Blue Oyster Cult and Alice Cooper Band. Proceeds from the concert will help fund Family ReEntry's expanded advocacy efforts for criminal justice reform, and programs that restore dignity and renew families that have been impacted by incarceration and the justice system. Tickets are currently on sale for the show to be held at T
he Warehouse at Fairfield Theatre Company (FTC WAREHOUSE)
, on Thursday, April 13th, 6:30pm.
About 13th:
DuVernay's documentary opens with the facts that today the US has 5% of the world's population but 25% of the people in the world who are incarcerated. She demonstrates that slavery has been perpetuated in practices since the end of the American Civil War through such actions as criminalizing behavior and enabling police to arrest poor freedmen and force them to work for the state under convict leasing; suppression of African Americans by disenfranchisement, lynchings and Jim Crow; conservative Republicans declaring a war on drugs that weighed more heavily on minority communities and, by the late 20th century, mass incarceration of people of color in the United States. She examines the prison-industrial complex and the emerging detention-industrial complex, demonstrating how much money is being made by corporations from such incarceration. 13th has garnered acclaim from film critics, and was nominated for an Academy Award for Best Documentary Feature.
About Family ReEntry:
Family ReEntry is a 501c3 nonprofit, which was founded in 1984 as a reentry support group for men at the Isaiah House in Bridgeport. It has since grown to include policy advocacy, and intervention, prevention, in-prison, reentry, fatherhood and youth & family programs. Over the past 33 years, effective advocacy efforts and community-based programs developed by Family ReEntry have significantly reduced the likelihood that clients will re-offend, be re-arrested, or be re-incarcerated. Its programs provide a spectrum of services designed to disrupt the intergenerational cycle of incarceration. Family ReEntry addresses the specific needs of each client and their families through individualized case management and support services. It works to create a positive social network for each client, helping make their transition from prison back into the community a successful, self-sufficient one, while strengthening their families and the community. Family ReEntry operates its programs in strategic locations that encompass eight municipal regions and judicial geographic areas, two parole districts and five prisons. Approximately, sixty-percent of those served by Family ReEntry are from greater Bridgeport – Connecticut's largest city. The organization has offices in Bridgeport, Norwalk and New Haven, CT. Programs are also held in Stamford, Waterbury, Derby, New London and Norwich, CT. More information is available at
www.familyreentry.org
and on its social media including,
Facebook
,
Twitter
,
Pinterest
,
Instagram
and
YouTube
.