Complex Aviation Safety Via New ARP4761A Explained: Simply and Free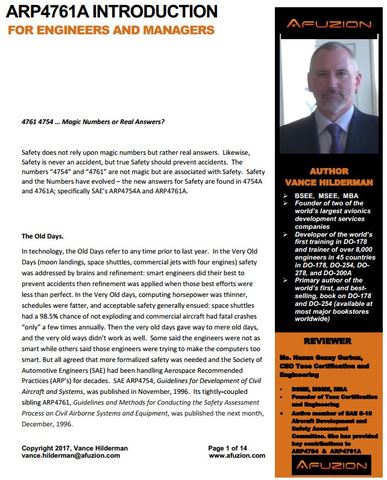 April 24, 2017 - AFuzion, the world's largest provider of aviation training, auditing, mentoring, and certification services, releases its new and free ARP4761A Technical Whitepaper. Written by AFuzion's Vance Hilderman, and reviewed by ARP4761A committee member Nazan Gozay Gurbuz, this fourteen page paper provides an in-depth overview of the forthcoming ARP4761 standard.
States AFuzion's Vance Hilderman: "ARP4761A will be released next year and we've had hundreds of requests for technical ARP4761A information, particularly from our ARP4754A training and certification clients. ARP4761A is even more tightly coupled with ARP4754A and it's increasingly mandatory for commercial aircraft and avionics. ARP4761A for UAV's and Military aircraft are also becoming popular as worldwide aviation developers pursue new designs with increasingly stringent safety criteria. We're adding ARP4761A training to our already popular ARP4754A training. We're pleased to add Nazan Gozay Gurbuz as a teacher especially since she was a key ARP4761A and ARP4754A SAE Committee Member."
Adds AFuzion's Jack Jones: "As a former test pilot, aviation safety is paramount. I help perform ARP4754A training for AFuzion clients and the new ARP4761A training will be popular. I also help perform AFuzion's ARP4754A Gap Analysis and there are normally many gaps within ARP4761 safety. The new ARP4761A isn't even due out until next year but the content is already incorporated into our services. This new ARP4761A PDF paper could be even more popular than our ARP4754A paper which has been downloaded over 2,000 times."
Says Taos Engineering founder and SAE ARP4761A (and ARP4754A) key committee member and contributor: "I teach ARP4761A and have been performing expert aviation safety analysis/certification services for many years. I also teach classes with AFuzion and it was a pleasure to formally review and improve this ARP4761A paper. Providing it for free to our customers and now the entire world is a real service to aviation."
Aviation safety does not rely upon magic numbers but rather real answers. Likewise, Safety is never an accident, but true Safety should prevent accidents. The numbers "4754" and "4761" are not magic but are associated with Safety. Safety and the Numbers have evolved – the new answers for Safety are found in 4754A and 4761A; specifically SAE's ARP-4754A and ARP-4761A. AFuzion's new ARP4761A paper provides background information and answers to the following aspects of aviation safety:
Aircraft Functional Hazard Assessment (FHA)
Aircraft Fault Tree Analyses (FTAs)
System FHAs
System FTAs
System Failure Modes and Effects Analyses (FMEAs)
Item FTAs
Item FMEAs
Relationship of the above to ARP4754A, DO-178C, & DO-254
The Old Days …
In technology, the Old Days refer to any time prior to last year. In the Very Old Days (moon landings, space shuttles, financially successful commercial jets with four engines) safety was addressed by brains and refinement: smart engineers did their best to prevent accidents then refinement was applied when those best efforts were less than perfect. In the Very Old days, computing horsepower was thinner, schedules were fatter, and acceptable safety generally ensued: space shuttles had a 98.5% chance of not exploding and commercial aircraft had fatal crashes "only" a few times annually. Then the very old days gave way to mere old days, and the very old ways didn't work as well. Some said the engineers were not as smart while others said those engineers were trying to make the computers too smart. But all agreed that more formalized safety was needed and the Society of Automotive Engineers (SAE) had been handling Aerospace Recommended Practices (ARP's) for decades. SAE ARP-4754, Guidelines for Development of Civil Aircraft and Systems, was published in November, 1996. Its tightly-coupled sibling ARP-4761, Guidelines and Methods for Conducting the Safety Assessment Process on Civil Airborne Systems and Equipment, was published the next month, December, 1996.
Today & Tomorrow.
Next year in 2018, the long-awaited update, ARP4761A, will be released. With this update, the ARP4754A & ARP4761A duopoly will be complete: worldwide aviation will require cohesive application of formalized safety principles to avionics, aircraft, and most things in between.
To download the free ARP4761A Training paper from AFuzion (private ARP4754A training and ARP4761A training is provided worldwide) click here:
AFuzion ARP4754A and ARP4761A Training Info
For information on ARP4761A Gap Analysis and ARP4754A Gap Analysis, click here:
AFuzion ARP4754A Gap Analysis and ARP4761A Gap Analysis
To download AFuzion's free Understanding ARP4761A Whitepaper, click here:
Free AFuzion Understanding ARP4761A Training & Whitepaper