Corporate Finance Associates Advises River City Engineering in Its Acquisition by Trihydro Corporation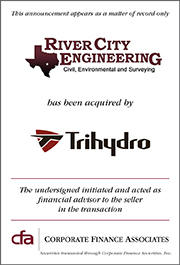 April 20, 2017 - Los Angeles, CA -
Corporate Finance Associates
(CFA) a leading middle-market mergers and acquisitions firm, announced it acted as the exclusive financial advisor to River City Engineering in the recent acquisition by Trihydro Corporation.
River City Engineering (RCE), established in 1990 with offices in New Braunfels and Austin, Texas provides water and wastewater consulting services to municipal and governmental clients in Central Texas. Trihydro is a leading national engineering and environmental consulting firm.
The two companies have long-standing track records of delivering successful engineering and environmental consulting services. River City specializes in water and wastewater services, as well as street and drainage design services. These specialties will complement and further strengthen Trihydro's existing civil, infrastructure, water and wastewater engineering, planning, restoration, development, and protection services locally and nationwide.
With this acquisition, Trihydro's network of offices grows to 20 nationwide, including the new office locations in Austin and New Braunfels, Texas. Trihydro also recently opened an office in Amarillo, Texas to better serve clients in that region. The company looks forward to continuing to provide quality services, and sharing the dedication of its employees with the local communities and surrounding region.
CFA Managing Director Roy Graham said, "It was a pleasure working with both River City Engineering and Trihydro. It is always great to see two companies whose culture and commitment to its employees, clients, and community align so well".
Transaction Information
On March 31, 2017, River City Engineering was acquired by Trihydro Corporation in a private transaction. The terms were not disclosed. Financial representation was provided by the
San Antonio Office of Corporate Finance Associates
, led by Roy Graham and Eduardo Berdegué.
About Corporate Finance Associates
Corporate Finance Associates is a major investment banking services firm, with offices across North America and partner offices in Europe, Asia and Brazil providing middle-market companies with a wide range of financial advisory services and access to capital resources. From project inception to completion, a senior principal guides clients through every challenge, advocates on their behalf, and leverages CFA's experience and extensive resources. More information is available via the Internet at
www.cfaw.com
.
Email Corporate Finance Associates