Occupational Therapist Spends Birthday Making Travel Accessible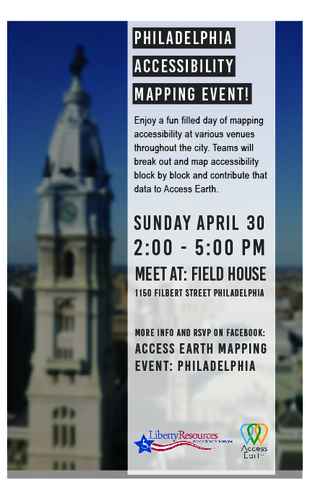 April 20, 2017 - Philadelphia based Occupational Therapist Alanna Raffel will be celebrating her 30th birthday mapping Philadelphia with accessibility information along with the team from Access Earth, the breakthrough Irish startup that is on a mission to make the world more accessible through their iOS and Android app and site. The Field House (1150 Filbert Street in Philadelphia) will be hosting the event April 30th at 2:00 pm. All Philadelphia citizens are encouraged to join in and "map" their local area by answering accessibility questions about restaurants, bars, shops, hotels and theaters using the Access Earth app. The overall process takes minutes to collect and helps makes a big impact.
"Along with my work as an OT, I have been getting more involved in physical and cultural accessibility in Philadelphia." says Ms. Raffel. She has used her connections to partner with HMS School for Cerebral Palsy and Liberty Resources.
"Working on these projects have been so rewarding for me.As I began to think about plans for my birthday, I knew I wanted to do something meaningful.Doing a mapping event is the perfect way to promote awareness, get people involved and collect information. I love living in Philadelphia and we have a lot of work to do with regards to accessibility."
Both Liberty Resources and HMS School for Cerebral Palsy are delighted to be involved with the event saying that it's a great opportunity to provide much needed information to people with accessibility needs in the Philadelphia area.
Access Earth (
http://access.earth
) is an iOS and Android mobile app and website that allows users to rate places by their accessibility for people with mobility impairments. By answering a series of yes or no questions users will be able to provide information to those who need it most.
"We are very excited to be conducting our first U.S. based mapping event in Philadelphia and help Alanna celebrate her birthday," says Matt McCann, CEO of Access Earth whose cerebral palsy has him walking with the assistance of a rollator. "I know how hard it is to navigate this world as someone living with limited mobility and by helping to provide this information we can help those living with a disability know more, do more and live more."
To host your own mapping event contact
hello@accessearth.com
.
About Access Earth
Access Earth is a community of people working to make travel easy and equal. Our mission is to empower more people to embark on new adventures. Access Earth members give each other the specific information they need to try new restaurants, hotels and tourist attractions without worrying about accessibility. 'Accessible' means something different to each of us. That's why Access Earth members can search and share specific, relevant accessibility information based on our set criteria.
About Liberty Resources
Liberty Resources, Inc., headquartered in Syracuse, New York, is one of Central New York's most diversified and trusted human service agencies. Founded in 1978 by a concerned group of citizens who wished to develop community based services, Liberty Resources continues to expand its geographic reach and scope of services. From humble beginnings, serving less than 50 people annually with 13 staff, Liberty Resources now employs more than 1,000 professional staff providing shelter, treatment, assistance, counseling and support to nearly 12,000 individuals and families.
About HMS School for Cerebral Palsy
HMS School educates, nurtures, and cares for children and young adults with complex physical disabilities resulting from cerebral palsy, traumatic brain injury or other neurological impairments, with the goal of enabling each to reach his or her maximum potential. We promote independence and improve the quality of life for youth in a safe and secure environment so each can lead a fulfilling, stimulating life now and as an adult.