Drag-And-Drop Your Way To Delivering Better Customer Experiences With Journeyflow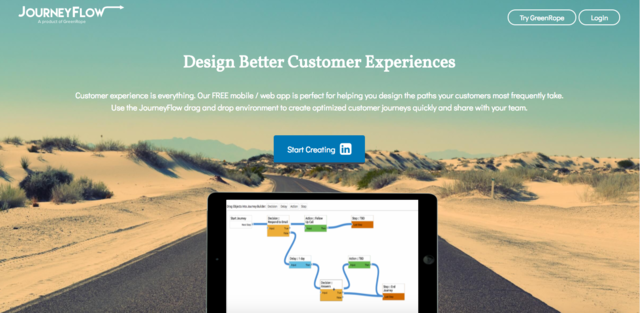 SAN DIEGO, CA - May 2, 2017 -
JourneyFlow, a new drag-and-drop customer journey builder, was released for web and iPhone earlier this week, making customer experience management more accessible to small and medium-sized business. The app was built and released by
GreenRope CRM and Marketing Automation
, and is designed to help business visualize and execute effective and successful customer journeys. JourneyFlow is free and can be accessed via desktop, mobile, and tablet.
"The customer experience is a big deal, and we want to make it easier for businesses to deliver exceptional experiences to their leads and customers," says COO of GreenRope, Bjorn DeBoer. "We have always been in the business of helping companies find growth through technology, strategy, and support. JourneyFlow is a pretty cool tool we want to give people to help make their jobs and lives just a little bit easier."
JourneyFlow is an easy-to-use customer journey builder designed to help users visually build the paths leads and customers go through when engaging with an organization. The free app allows users to design journeys based on both behavioral and demographic triggers, so the contact's experience is specifically tailored to their needs at every stage of the funnel.
The drag-and-drop builder means the user doesn't require extensive technological savvy, but instead makes creating better business processes simple, effective, and affordable. The visual builder comes preloaded with a number of templates so users can start creating beautiful journeys instantly. With open text fields, it is easy to customize each step in the journey according the the specific needs of both the consumer and the business.
Visual customer journeys help business better understand their own processes and allow them to fill in holes in their customer experiences.
"Now any business can create beautifully personalized customer experiences without having to learn complex software systems created for big enterprise," says Marketing Manager, Alex Tarantino. "With JourneyFlow, all you have to do is literally drag and drop each element into your Journey, link them together, and boom, you have a customer roadmap that will significantly boost your overall sales and marketing strategies."
JourneyFlow is currently available to all users who wish to enhance their customer experience management initiatives. Click here to start making your first
JourneyFlow
.