An Interview With Mitchelle David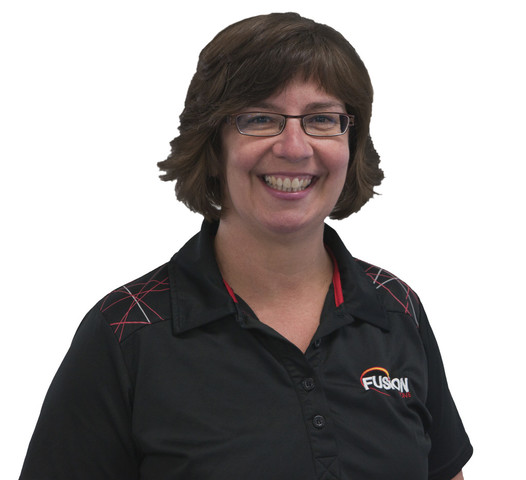 May 25, 2017 -
Michelle David
is a Fusion Stone Inside Sales/Customer Service/Technical Associate, a very young 40 something, has a partner, Kelsey and Step-daughter, Madison. She was asked the following questions at the company's website:
Where were you born and where did you grow up?
Born, raised and returned to the lovely hamlet of Shallow Lake, ON where most of my family resides as well. My roots are in Shallow Lake which makes working for Shouldice and Fusion Stone that much more meaningful.
What are your past times?
Car racing…both amateur and NASCAR. Kelsey has his own Thunder Car. I love to watch NASCAR and have gone to quite a few tracks. Go 78 Go!!
Baseball was always a favourite, but sadly I'm retired from the field. A Jays fan at heart. Reading, walking, a bit of gardening, cleaning (don't judge me).
Love to travel when time and money permit. My favourite destination to date would have to be Barcelona. What a magnificent place.
What is your role at Fusion Stone?
Fielding incoming phone calls and emails through the Fusion Stone website pertaining to Customer Service and Technical Support. I also lend a hand when needed to our outside team – Eric, Richard & Todd as well as support our Distributor and Dealer network.
What is most satisfying about your job?
THE best thing about my job is when I've been speaking with customers about their projects and then receive photos of the completion with the comment "I did it myself". It is so rewarding to know how much pride people take in their Fusion Stone investment when they can tell their friends that they put that stone on their house themselves.
What is most challenging about your job?
Lack of customer confidence. I get calls all the time asking for Certified Installers because customers just can't believe they can do it themselves. BULLY! We wouldn't call it DIY if we didn't have faith in the end user. You CAN do it. Trust me. It's that easy.
What is your favourite restaurant / food?
Favourite…YES! I love them all. Everything from Subway to Channings (the best Chinese in Grey/Bruce) to The WalkerHouse in Southampton; Ted's Range Road Diner in Meaford; Harrison Park Inn in Owen Sound. I love to dine out and try new things.
What is your Tim Hortons staple?
Good morning…I'll have a Large Dark Roast that's 1/4 Hot Chocolate please…don't knock it till you try it! And if I'm feeling naughty, there might even be a Lemon Poppyseed muffin in my future.
What is your favourite music genre and artist?
I love the old Rock and Roll, Hard Rock, Soft Rock, a bit of Metal and even a bit of Rap if the mood is right. My all time favourite band would have to be AC/DC with Nickelback taking a close 2nd, but there's nothing like turning back the page and dancing to Elvis like nobody's watching.
If you could spend one day with anyone in the world, who would it be and why?
My Dad. He was taken from me (us) far too soon and there are so many times that I've thought, "I wonder how Dad would've done this?". I purchased and rebuilt a home and as a builder himself, I can only imagine the advice and knowledge he would've been able to share with me. I sure do miss chatting with him about…nothing.
What are 5 things you can't live without?
Kelsey
Friends/Family
Memories of my Parents
Cell Phone
Chocolate
Why did you choose Fusion Stone for a career?
Funny story is…I didn't. I've always worked in the building industry, but never in the masonry division. Initially, I couldn't tell the difference between a stretcher and a corner. I was so nervous when starting to work for Team Fusion. 11 years has gone by and I wouldn't change a thing for the world. I'm so very happy I made the move. Once you start with Fusion Stone…you'll be Hooked for Life!!
What is a key highlight of working with Fusion Stone?
Geography. I love asking people where they are calling from. It amazes me how many miles are sometimes between myself and the caller. It gives me goosebumps when I stop and think about how far Fusion Stone has reached. It's very exciting and rewarding.
What is your favourite Fusion Stone product and why?
Great Lakes Stone in Raven is my all time favourite. Neutral charcoal with a subtle black and copper flash is absolutely stunning. Marry it with cedar tone siding and WOW, will your house make a statement. Neighbours will be envious that's for certain!
Fusion Stone is an easy and budget-friendly way to beautifully upgrade your home, inside and out. A patented innovation, Fusion Stone is a thin stone veneer that is easily installed with the included stainless steel clips & screws. You just screw it to the wall and it's "Hooked for Life.
FUSION STONE
281226 Shouldice Block Road
Shallow Lake, Ontario
N0H 2K0 CANADA
Telephone: (519) 935-2771 ext.224 or (800) 265-3174
Email:
fusion@shouldice.ca