Meet Dunnegan Springs Structures: A new Amish Shed, Garage and Cabin Builder in Dunnegan MO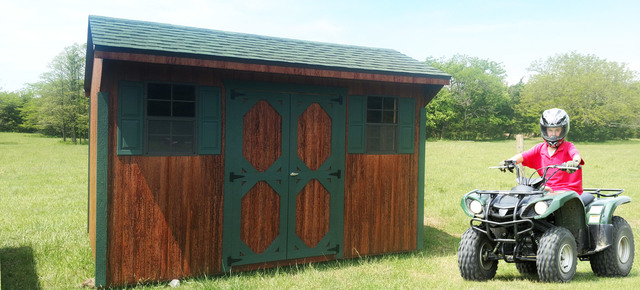 May 25, 2017 - For nearly ten years, Samuel Fisher worked in the storage shed industry before moving to his new home in Dunnegan, MO. While building
Storage Sheds
in the "shed capital of the world", Samuel was tasked with doing about every part of the building process. From cutting to building and even setting up storage sheds and prefab garages on-site, he had the opportunity to learn the trade well.
After working in the industry for nine years, Samuel ended up in Dunnegan, MO in a new Amish community. At first, he setup a business and began working in construction and building in the local area. But his desire to work from home alongside his sons, kept tugging at his heart.
Today, Samuel is launching his own start-up
Amish Sheds company in Dunnegan, MO
where he will build storage sheds, portable garages, cabin sheds and even animal shelters. He is joined by his recently acquired son-in-law who married the eldest of Samuel's three daughters.
Born inside the Amish tradition where working from home alongside other family members is common, Samuel decided launching a home-based business would give more time for family and more time for working alongside his growing sons.
First, they had to get to work building a manufacturing facility from which to launch. The storage shed manufacturing facility is built and ready-to-go and Samuel and his small team have been producing their first storage sheds.
To begin, the budding Amish Sheds company in MO is offering four basic storage shed models, two
portable garage
styles, three cabin designs and a run-in shed for animals. There are, of course, options such as extra windows and doors along with lofts and more.
E-Impact Marketing
of Lancaster, PA has been tasked with building an online presence and assisting with other marketing needs. The website is launched and displaying the Amish sheds and prefab garages built in Dunnegan, Missouri.
Email Dunnegan Springs Structures