Aimed Alliance Identifies Essential Elements of Affordable Care Act Replacement Legislation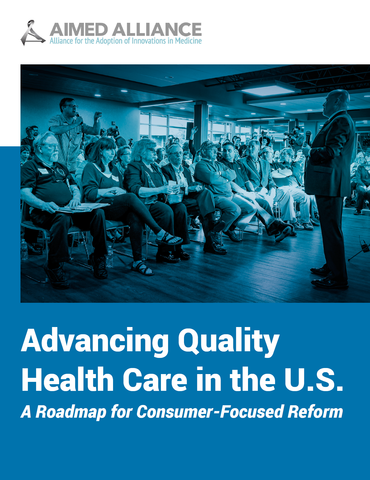 WASHINGTON, DC (June 21, 2017) – The Alliance for the Adoption of Innovations in Medicine (Aimed Alliance) – a not-for-profit working to improve health care in the U.S. – today released Quality Health Care in the United States: A Roadmap for Consumer-Focused Reform with ten reform recommendations for Congress to preserve broad access to health insurance coverage, stabilize the marketplaces, and equip consumers to make responsible, informed health care decisions.
The paper comes just days after President Trump called the House-passed American Health Care Act (AHCA) "mean," expressing his desire for a more compassionate approach to health care reform. According to the Congressional Budget Office, the AHCA could result in the loss of health care for 23 million Americans. To avoid political backlash, it will be necessary for Congress to retain or replicate the publicly popular components of the ACA. This includes preserving coverage for dependent children up to age 26 on parents' health plans, guaranteeing affordable coverage for people with pre-existing conditions, and assuring that health plans offer essential health benefit (EHB) packages.
According to Speaker of the House, Paul Ryan, Republicans plan to use a three-phase approach to repealing and replacing the ACA: (1) pass legislation under the budget reconciliation process; (2) take administrative action to stabilize the market, increase choices, and lower costs; and (3) enact additional legislative policies that cannot be included in a reconciliation bill. As part of the first phase, Republicans are expected to eliminate the federal "individual mandate," which requires all Americans to obtain health care coverage or else pay a tax penalty, and the "employer mandate," which requires employers with 50 full-time employees or more to offer a federally-specified level of health insurance coverage.
To stabilize the marketplaces, Aimed Alliance recommends Congress implement strong incentives for Americans to maintain continuous health insurance coverage, among other actions set forth in the new report. "In addressing health care, Congress must protect consumers' rights to health coverage while empowering them to take responsibility for their health care savings and spending," Stacey Worthy, Executive Director of Aimed Alliance and a co-author of the report, said. "Replacement legislation will need to include strong consumer protections and provide access to quality, patient-centered care, which is achievable with common-sense policy solutions."
To develop the policy priorities, the paper's authors analyzed ten health care proposals introduced between January 2015 and April 2017 and the specific provisions of the ACA. From this comprehensive review, the authors developed a reform roadmap, which includes these ten recommendations:
Guarantee non-discriminatory coverage for people with pre-existing conditions;

Maintain dependent coverage for individuals under the age of 26;

Preserve EHBs, including coverage for prescription drugs, maternity care, and mental health and addiction treatment;

Prohibit insurers from imposing annual and lifetime dollar limits on coverage for a person's care;

Maintain minimum levels of coverage requirements to ensure that coverage is available if care is needed;

Preserve annual caps on patients' out-of-pocket costs;

Implement strong incentives for Americans to maintain health coverage;

Reduce premiums for young people;

Put health care providers in charge of medical decision making; and

Empower Americans to save for health care and make informed health care decisions.

To implement the recommendations set forth in Aimed Alliance's report, changes beyond those allowed in a reconciliation bill will be necessary. To read the report, click here.

#####

About the Alliance for the Adoption of Innovations in Medicine (Aimed Alliance)
Aimed Alliance is a tax-exempt, not-for-profit organization that works to improve health care in the U.S. through access to evidence-based treatments and technologies. We conduct policy activity with a legal focus. Aimed Alliance's supporters are disclosed at http://www.aimedalliance.org/collaborators/. Visit www.aimedalliance.org and follow @AimedAlliance on Twitter.

Attachments