Three New Members Appointed to Thomas Jefferson School of Law Board of Trustees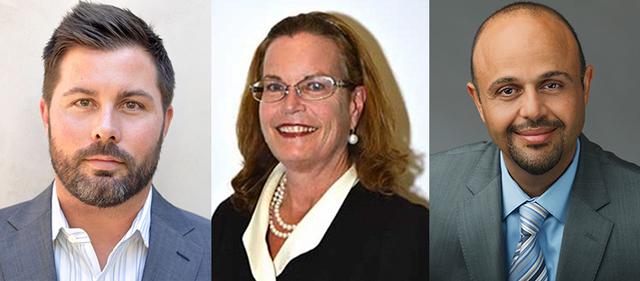 SAN DIEGO, CA, 7/3/17 – The Thomas Jefferson School of Law Board of Trustees today announced the appointment of L. Tracee Lorens '90, H. Sammy Rihan '96 and Brandon White '05 to the Thomas Jefferson School of Law Board of Trustees.
Tracee Lorens
attended Kent-Denver Country Day School in Denver, Colorado, followed by San Diego State University and Thomas Jefferson, School of Law, graduating and being admitted to the California Bar in 1990. She was the founding partner of Lorens & Associates, APLC and focused her practice on consumer class actions. Memorable cases include her lead attorney role in, Hohnbaum v. Brinker, Laguna v Coverall, and Albrecht v. Rite Aid among many others. She retired in February 2014 and has dedicated her retirement years to managing numerous luxury vacation rentals she owns in Colorado, California, and Baja California.
Ms. Lorens was President of the Consumer Attorneys of San Diego (CASD) in 2003 after ten (10) years on their Board of Directors and Executive Board. She has received several Outstanding Lawyer Awards from CASD, a CLAY Award in 2013, and Super Lawyer Awards on several occasions. She has been an AV rated attorney for nearly all her career. She's proud of her long and productive career representing those who could not otherwise afford representation, and for having helped to ensure access to the legal system for low-wage workers and consumers.
Sammy Rihan
, a 1996 graduate of Thomas Jefferson School of Law, began his legal career representing small business entrepreneurs. His practice initially focused on contract negotiations and dispute resolution.
Mr. Rihan's passion for representing victims of personal injury became the foundation of his practice and has been the focus since 1998. He is also a licensed California real estate broker representing select clients in residential transactions.
Brandon White
, MAI is a 2005 graduate of Thomas Jefferson School of Law. He is a managing partner with Reliance Valuation Group, a San Diego based commercial real estate appraisal firm that provides valuation and advisory services for conventional and complex real estate properties throughout the United States.
Mr. White has also combined his knowledge of commercial real estate with his legal education in order to provide litigation support for various commercial real estate projects in California.
He began his career in commercial real estate in 2005 with Colliers International. Mr. White takes pride in building strong client relationships with an impeccable work product and considerable industry knowledge as the foundation. He received his undergraduate degree in Philosophy from Auburn University, where he was a letterman on the football team.
"The Board is extremely pleased to announce the additions of L. Tracee Lorens, H. Sammy Rihan and Brandon White as Trustees," announced Thomas Jefferson School of Law Board of Trustees Chairman Randy M. Grossman. "We will benefit greatly from these excellent additions to an already strong Board that is comprised of Trustees that are experts in their field and genuinely care about the future of Thomas Jefferson School of Law and its students."
More information about the Thomas Jefferson School of Law Board of Trustees can be viewed at
www.tjsl.edu/about-tjsl/trustees
The mission of Thomas Jefferson School of Law is to provide an outstanding legal education for a nationally-based, diverse student body in a collegial and supportive environment with attention to newly emerging areas of law, particularly those related to technological development, globalization and the quest for social justice. Located in Downtown San Diego, Thomas Jefferson School of Law has evolved into an innovative, cutting-edge law school, devoted to the individual needs and success of its students. More information is available at
www.tjsl.edu
.
—- END —-
CONTACT: Thomas Jefferson School of Law Director of Marketing and Communications Edgar Hopida, 619-961-4314 or 619-913-0719,
ehopida@tjsl.edu
Email Thomas Jefferson School of Law