GreenRope's CEO Authors CRM For Dummies Bringing Simple CRM Strategy To Businesses Everywhere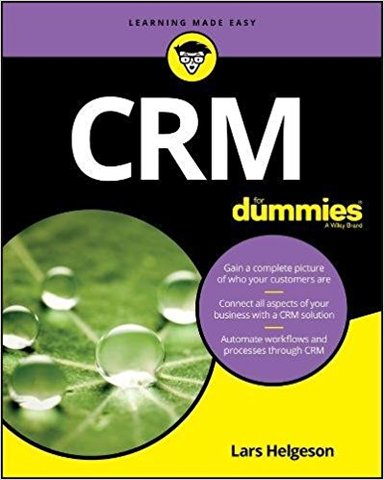 SAN DIEGO, CA - July 11, 2017 - Lars Helgeson, CEO of GreenRope, a powerful CRM and marketing automation platform, recently released in conjunction with Wiley Publishing, the much needed CRM for Dummies. CRM for Dummies provides novice and experienced CRM users with solid advice, best practices, and strategies for implementing CRM successfully into any business.
"This book is a collection of best practices and actionable strategies based on over twenty years experience in the industry," says the author, Lars Helgeson. "The purpose of this book is to help people break down the complexities of CRM to better understand how CRM ties into your overall business and how to make it work for you."
CRM for Dummies, published by Wiley publishing covers every aspect of CRM, tying it to the rest of your business processes. It helps readers connect the dots between sales, marketing, and operations, and how an effective CRM strategy integrates and streamlines your overall business tactics.
"CRM is not just a sales tool," continues Lars. "CRM is for every department and every team member. If it isn't in the CRM, it didn't happen.
This mindset is something new for a lot of business, especially in the SMB world, making this book highly relevant at a time when the term CRM is becoming widely understood and implemented.
"Too many CRM implementations fail, and I want to try and substantially decrease this number," says Lars. "This book focuses on the strategies any business needs to be successful with CRM and gives plenty of options and advice on how to make CRM work for you, not you for it."
The book covers everything from marketing automation, ticketing, event management, social media and much more to give readers an in-depth understanding of how it can all seamlessly work together to make your business stronger and your workforce happier and more productive.
GreenRope, built by tech innovator, Lars Helgeson, integrates all the features sales, marketing, and operations teams need most and ties them altogether. "We are seeing an increase in the need for all-in-one platforms as teams become more collaborative and focused on customer-centric business strategies," says Helgeson. "However, this book isn't about GreenRope, CRM for Dummies is my attempt at helping business owners and those at any stage in the 'CRM process' make informed decisions when it comes to reaching their overall business goals"
GreenRope offers three suites built into one platform, the Marketing Suite, the Sales Suite, and the Operations Suite. Each suite is natively integrated so every member of your team has access to the contact data and the tools they need to get the job done, better. GreenRope's Journeys is a drag-and-drop tool that allows users to create comprehensive customer journeys that include touch points from every department. This feature helps businesses build cohesive customer experiences throughout the entire customer lifecycle.
To learn more about GreenRope,
click here
and to purchase CRM for Dummies,
click here
.