Defense Contracting Activity, LLC Named USDA SDVOSB Contractor Of The Year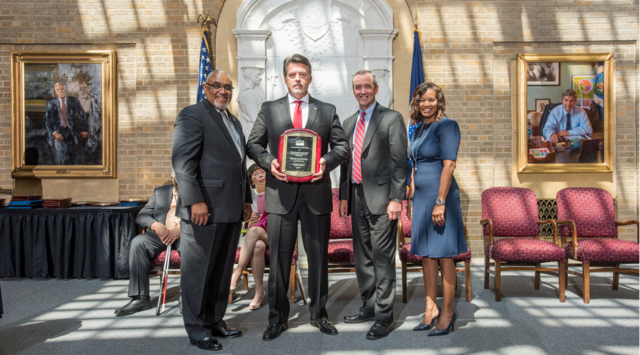 Mclean, VA, July 13, 2017 – Defense Contracting Activity, LLC (DCA) was named the United States Department of Agriculture's (USDA) Service-Disabled Veteran Owned Small Business (SDVOSB) Contractor of the Year at an Award Ceremony held June 21, 2017. DCA was previously nominated and selected for the same award at the lower Agency level by the USDA Animal Plant Health Inspection Services (APHIS).
The U.S. Department of Agriculture (USDA) conducts an annual small business and Service-Disabled Veteran Small Business (SDVOSB) award program to recognize exemplary service to the Department. DCA currently serves as the prime security and law enforcement services contractor for five USDA federal facilities designated as National Security Sensitive.
"The USDA agency-wide award represents the apex of DCA's domestic national security mission. Our mission partners are responsible for the tremendous quality of services provided to the USDA stakeholders and the award is symbolic of our team's commitment to excellence and to the protection of America's national security critical infrastructure. All of our success has been due to the active engagement of our mission partners, Veterans First hiring priorities, and keeping with our emphatic commitment to 'people before profits' as our first mission," stated JP Snyder, President & CEO of Defense Contracting Activity.
About USDA
The USDA provides leadership on food, agriculture, natural resources, rural development, nutrition, and related issues based on public policy, the best available science, and effective management.
We have a vision to provide economic opportunity through innovation, helping rural America to thrive; to promote agriculture production that better nourishes Americans while also helping feed others throughout the world; and to preserve our Nation's natural resources through conservation, restored forests, improved watersheds, and healthy private working lands.
About DCA
DCA is a Service-Disabled Veteran Owned Small Business headquartered in Martinsburg, West Virginia and prime contractor to the federal government. DCA is a multinational corporation with operations spanning security, law enforcement, intelligence, and special-operations. Delivering project expertise on five continents, DCA is a globally recognized brand offering superior project management knowledge to the US Government, Department of Defense, and its NATO allies.
Contact:
Public Relations
Contact us:
admin@go-dca.com
1350 Beverly Road, Ste.115-206
McLean, VA 22101-3961
www.Go-DCA.com